After winning the 4x400-meter relay at World Athletics Championships Saturday, runners Tatyana Firova and Kseniya Ryzhova shared a kiss. Then the gold medalists kissed again during the award ceremony.
While some speculated that the Russian athletes' kiss on the winners podium was an apparent jab at the country's anti-gay law, local media questioned whether it was a political gesture or simply a congratulatory embrace.
(Story continues below)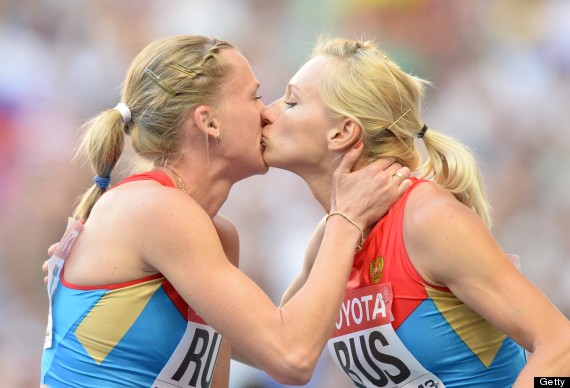 Russia's Tatyana Firova (R) and Russia's Kseniya Ryzhova kiss shortly after winning the women's 4x400-meters relay final at the 2013 IAAF World Championships at the Luzhniki stadium in Moscow on August 17, 2013. (YURI KADOBNOV/AFP/Getty Images)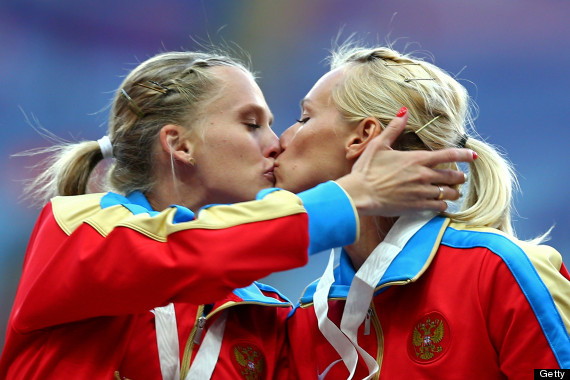 Gold medalist Tatyana Firova and Kseniya Ryzhova of Russia kiss on the podium during the medal ceremony for the Women's 4x400 meters relay during Day Eight of the 14th IAAF World Athletics Championships Moscow 2013 at Luzhniki Stadium on August 17, 2013 in Moscow, Russia. (Paul Gilham/Getty Images)
Neither athlete has released a statement, so the kiss may have been just that -- a kiss. However, as Gay Star News notes, the Russian athletes' kiss does violate the anti-gay law passed by Russia's parliament earlier this year. So the two women could, theoretically, be prosecuted for their public lip-lock, since it could be perceived as propagating non-traditional sexual relations.
Meanwhile, Russian Sports Minister Vitaly Mutko addressed the commotion over Russia's "gay propaganda" law Sunday, blaming the media for blowing it out of proportion.
"I think this is kind of an invented problem," he told reporters during a press conference, according to Reuters. "We don't have a law banning non-traditional sexual relations, we have a different law."
Mutko is of course referring to the calls for a boycott of the 2014 Winter Olympics that will be held in Sochi. Russian authorities recently confirmed that athletes and spectators visiting the Russian city will be required to abide by the country's laws, including its anti-gay legislation.
However, Mutko said that visitors in Sochi will still be "granted all rights and freedoms."
BEFORE YOU GO
PHOTO GALLERY
The Best Gay Kisses