We bet this wasn't what ASOS had in mind when it gave customers the chance to act as fashion editors.
ASOS Fashion Finder, the retailer's community-powered site that lets users create outfits on "boards" a la Polyvore, currently features one board touting the "Homeless/Hobo Look." The board was noticed by The Sunday Times, which tweeted on Sunday, "I think Asos may have been hacked."
The inspiration board includes a rugged Timberland parka, distressed denim and Calvin Klein boxer briefs, among other things, and is described by creator sleepy_head with the following caption:
HOMELESS/HOBO LOOK: Fashion trend that is inspired by the dirty, effortless, harsh, urban, city look of the lower class.
An earnest take on style as inspired by homeless people? Some off-putting joke? Either way, we doubt it's due to a hack. ASOS Fashion Finder is a fairly open platform, and it's stunningly simple to publish just about anything you want. (Upon signing up, ASOS sends users instructions to "Create carefully! Your content will help set the tone for the whole site..." but there seem to be few filters to ensure that happens.)
Luckily, fashion magazines like Vogue don't let readers do the same thing.
PHOTO: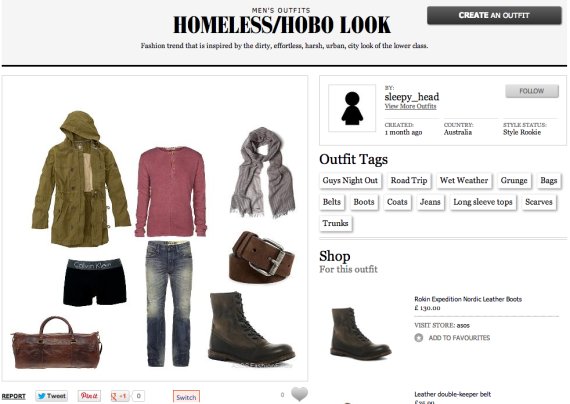 More online fashion fun:
PHOTO GALLERY
Our Favorite Online Shopping Sites
Want more? Be sure to check out HuffPost Style on Twitter, Facebook, Tumblr, Pinterest and Instagram at @HuffPostStyle.