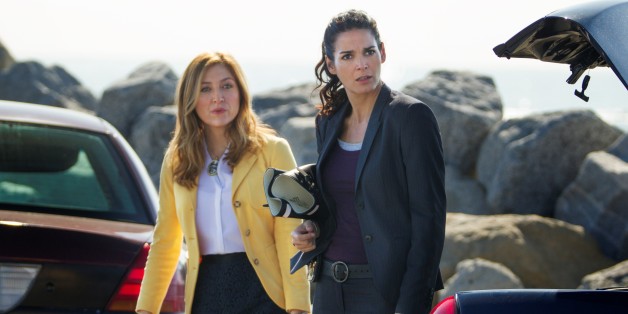 Are "Rizzoli & Isles" more than friends? Some fans have been really pushing for it, according to Angie Harmon, who co-stars as Detective Jane Rizzoli opposite Sasha Alexander's Dr. Maura Isles on the popular TNT drama.
"It was like, 'We're not going to watch your show because you won't write them making out,'" Harmon told More magazine (via The New York Daily News) about some messages from threatening fans.
"Whether we're gay or straight, it doesn't matter," Harmon told the magazine. "We're all women. We all have the same wonderful situations happen to us, the same horrific situations. We all get our hearts broken."
Harmon discussed the lesbian "Rizzoli & Isles" following on "Conan" in July, where she talked about the fan fiction that's written about their characters.
"Thank you very much for making me feel very pretty," she said, "because I'm always the man in this very lesbionic relationship ... You know, I wanna be sexy. I want to be the girl one time, or maybe twice."
Last year, Alexander told The Advocate that the relationship between the characters could get sexual. "The show was created and is executive-produced by a woman, and it's starring these two women who are very different people. They're very different characters, and so we have a lot more estrogen on our show than most shows ... And I think that it's a great thing because we have a woman spearheading it and she is writing these characters in a way that is just much deeper," Alexander said. "They are, they're deeper. Their relationship; it could be sexual one day ... Who knows?"
"Rizzoli & Isles" was recently renewed for a fifth season, slated to begin summer 2014.
BEFORE YOU GO
PHOTO GALLERY
Summer TV Guide