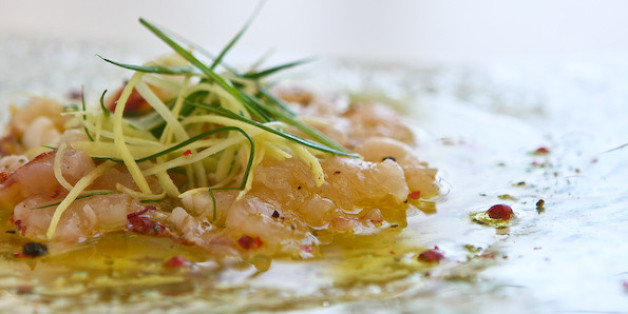 Traditionally, carpaccio is made of raw (or at the very least, very, very rare) beef, sliced paper-thin, dressed with olive oil, lemon, salt, pepper and Parmesan. Usually there is an arugula salad on top. Does the rawness of the beef freak you out? Our best advice: get your beef from a butcher you trust (who can also slice it super-thin for you, if you don't want to do it at home), make sure it comes from an animal that was treated nicely and then just get over it. It's delicious and you won't regret it.
Carpaccio is, on a hot summer day, one of the most satisfying meat dishes we can think of. But carpaccio has come a long way from its original recipe, extending into thinly sliced and dressed fish, shellfish, vegetables and even fruits. We rounded up a few of our favorite carpaccio recipes for you today, just in case it's still too hot to cook in your kitchen. Absolutely do not miss Steamy Kitchen's take on Nobu's lobster carpaccio dish. Spoiler alert: it involves sizzling hot oil. Bonus kitchen bravado points.
Want to read more from HuffPost Taste? Follow us on Twitter, Facebook, Pinterest and Tumblr.
PHOTO GALLERY
Carpaccio Recipes