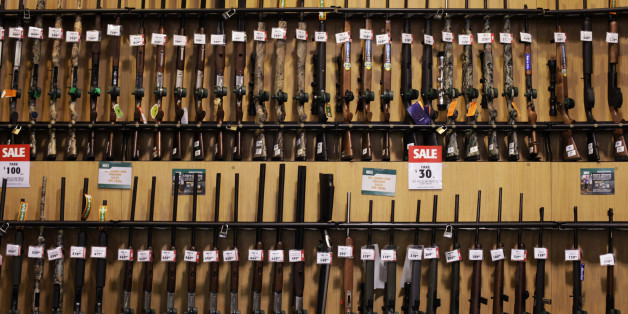 Field & Stream, a new outdoors store opened by Dick's Sporting Goods in western Pennsylvania, is selling AR-15 semi-automatic rifles, apparently ending the company's suspension of assault-style weapons sales after December's massacre at a Newtown, Conn., elementary school.
A Field & Stream sales associate confirmed to The Huffington Post that AR-15s and so-called modular sniper rifles are available for purchase at the store in Cranberry Township, Pa. The store, the first of two Dick's has said it plans to open in 2013 focusing on hunting and fishing gear, had its grand opening on Friday, according to the Pittsburgh Business Times.
Adam Lanza used his mother's Bushmaster AR-15 rifle to kill 20 children and six adults at Sandy Hook Elementary School on Dec. 14. Lanza also killed his mother and himself.
Dick's Sporting Goods, the largest U.S. sporting goods retailer, issued this statement after the killings:
Out of respect for the victims and their families, during this time of national mourning we have removed all guns from sale and from display in our store nearest to Newtown and suspended the sale of modern sporting rifles in all of our stores chainwide.
Modern sporting rifle is the firearm industry term for military-style rifles that fire a single shot with each pull of the trigger.
The news that Field & Stream is selling AR-15s and sniper rifles suggests that the company's period of mourning is over. A salesman at Dick's in Homestead, Pa., said neither that store nor any Dick's sells AR-15s. Dick's did not respond to questions from HuffPost on why it's selling semi-automatic weapons at the spinoff store and whether it will resume selling them at Dick's locations.
Assault-style weapons like the AR-15 are extremely profitable for retailers. The Sandy Hook shootings appear to have boosted gun sales and industry profits, as enthusiasts rushed to purchase guns before federal legislative action, which fizzled. The New York Times points out that before the Newtown killings, AR-15 rifles sold for about $1,100. But by February, some retailers were charging as much as double.
Update -- 12:15 p.m.: Shares of Dick's fell Tuesday morning as the company reported lower-than-expected earnings. A Reuters report blamed the weak sales on the summer's cool and wet weather, as well as higher payroll taxes and the job market.
Hat Tip: Vocativ.