Swedish women have embodied the true meaning of "sisterhood" by wearing headscarves to show their support for Muslim women facing discrimination in the country.
Following the assault of a pregnant Muslim woman wearing a hijab on Saturday, Swedish women have been posting pictures of themselves wearing headscarves on Twitter and Instagram with the hashtag #hijabuppropet, or #hijaboutcry. They've accompanied their pictures with messages of support and fellowship, uniting as women to protest injustice.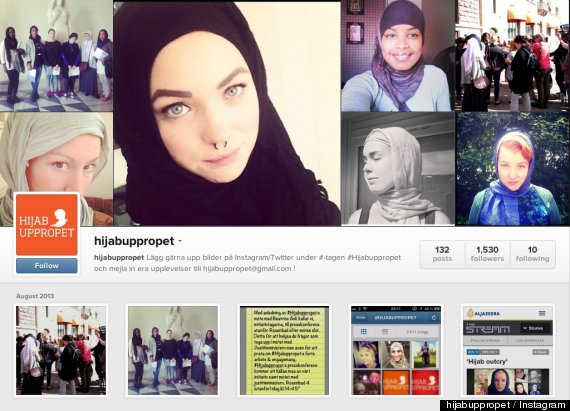 The pregnant victim told Sveriges Television that her headscarf was torn off and her head was slammed against a car as her assailant verbally abused her with racial slurs, causing her to pass out. She was hospitalized with a concussion late on Friday night.
The organizers of #hijabuppropet, Foujan Rouzbeh and Nabila Abdul Fattah, published an impassioned opinion piece in Aftonbladet newspaper on Sunday, urging Justice Minister Beatrice Ask to take action in order to:
ensure that Swedish Muslim women are guaranteed the right to personal safety and religious freedom, without being subject to verbal and physical attacks. In addition, we demand that responsible politicians actively draw attention to and fight the structural discrimination that affects Muslim women. We believe that's reason enough in a country where the number of reported hate crimes against Muslims is on the rise – and where women tie their headscarves extra tight so that it won't get ripped off – for the prime minister and other politicians to take action to stop the march of fascism.
Swedish women rallied to the cause by posting hijab-clad photos of themselves online, including well-known figures like Green Party MP Åsa Romson, Social Democrat Veronica Palm, and comedian and television host Gina Dirawi. As of publication, #hijabuppropet was trending in Stockholm.
Women posted heartfelt reasons for why they wanted to show their support, like this one, who wrote, "But for me and for a lot of women participating in this action this is no pretend play to try out Islam or "live like an exotic Muslim woman" for a week. This is an act of support to all women, Muslim or not and especially for the woman who was attacked and beaten until unconscious simply for wearing hijab, in my own town..."
Some ladies got stylish.
Others drew interfaith comparisons.
And some men even got involved.
People from around the world are applauding the open-mindedness and strength of the Swedes involved, as religious intolerance is a problem that affects all members of a society, not merely the ones being discriminated against.
Though hijab is often seen as an oppressive and anti-feminist, the #hijabuppropet solidarity insists that the essence of feminism is self-determination for women: the freedom to make choices regardless of what those choices are.
Continue following #hijabuppropet here:
Tweets about "#hijabuppropet"
BEFORE YOU GO
PHOTO GALLERY
Swedish Women Show Solidarity With Muslims