LA's two newly-elected gay city councilmen are flying their rainbow flag with exactly the kind of pride we need in politics.
Councilman Mike Bonin posted to Facebook the fantastic photo below of him and Councilman Mitch O'Farrell, who are both openly gay, to announce their resolution in support of the persecuted LGBT community in St. Petersburg, a Sister City of LA. Their resolution passed with a unanimous 14-0 vote in the LA City Council Tuesday.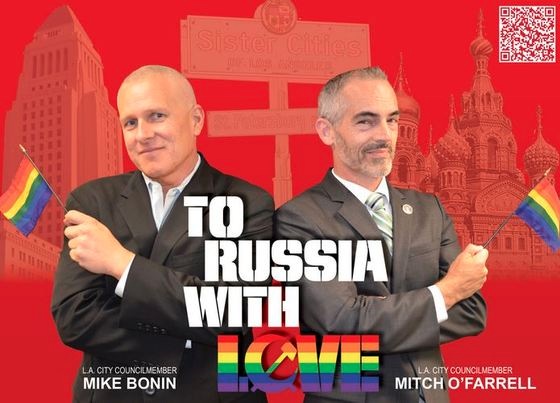 Rather than sever ties with St. Petersburg, Bonin and O'Farrell's resolution calls on President Barack Obama and Secretary of State John Kerry "to take action to end the persecution, abuse, and murder of gays around the world."
This action should include, they say:
"expand[ing] and grant[ing] expedited asylum to refugees who are fleeing persecution in another country because of their sexual/gender orientation or identity."

and

"making strong, public and international statements condemning such persecution and exerting all necessary pressure on governments to take action."
The resolution will be communicated to the state department by the city's lobbyist in Washington D.C., Bonin's office said.
As a symbol of their support, the two councilmen held a ceremony Tuesday morning to attach a rainbow flag to the "street sign" pointing to St. Petersburg from the Sister City landmark at First and Main in downtown Los Angeles.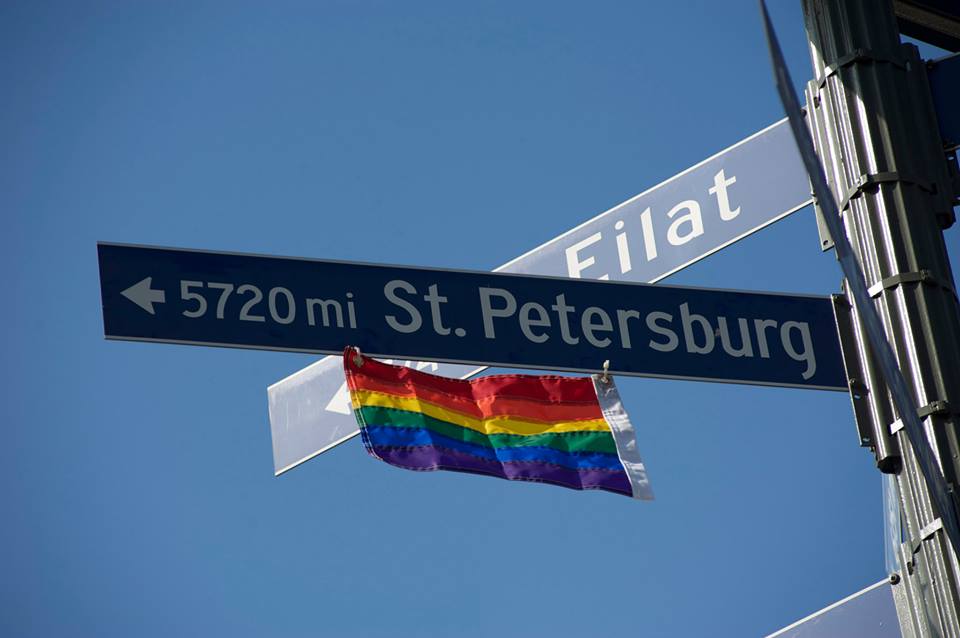 Bonin is engaged to his partner of over four years, and O'Farrell has been with his partner for over 17 years.
Last month, West Hollywood councilmen and gay bars poured Russian-branded Stoli vodka into gutters to protest Russian President Vladimir Putin's anti-gay legislation.
EARLIER ON HUFFPOST:
PHOTO GALLERY
BEFORE YOU GO
Celebrities Who've Come Out As LGBT
PHOTO GALLERY
Celebrities Who've Come Out As LGBT