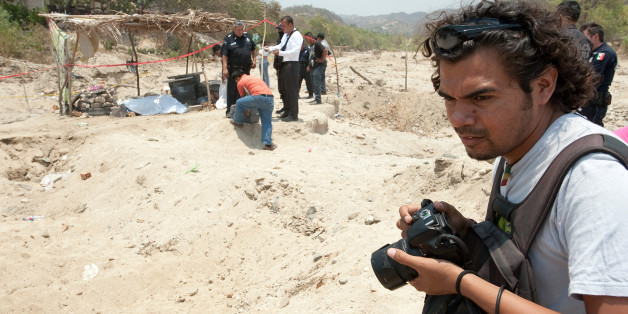 What is it like to report on Mexico's corruption and violent drug gang war that has killed thousands, including dozens of reporters, when you yourself are a journalist on someone's hit list?
An American reporter will be shot to death within 24 hours, journalist Alfredo Corchado, learns one day while reporting from Mexico City in 2007 – and the likelihood is that the person on the hit list is Corchado himself.
Corchado tells us about enduring the personal hell of wondering how his untimely violent end will come in his new book, "Midnight in Mexico: A Reporter's Journey Through a Country's Descent Into Darkness," that reads like one of those Cold War thrillers from another time – novels like Frederick Forsyth's "The Odessa File" – that Hollywood turned into films.
But Corchado's book is non-fiction, and this may be the best journalist's book about a personal reporting adventure since Bob Woodward and Carl Bernstein's "All The President's Men" in the 1970s.
"Midnight in Mexico"
What "Midnight in Mexico" may lack in some deeper understanding of why Mexico historically is the way it is, it more than makes up for in riveting our attention on Corchado's own search for his potential killers – not knowing whether they are cartel killers or hitmen hired by some corrupt bureaucrat.
A heckuva choice, huh, when you can't tell the bad guys from the drug lords or the politicians?
And that tells you a lot about the greatness of Corchado as a reporter, that his reporting and insightfulness has gotten under the skin of both Mexico's cartels and the ruling class in a country that is one of the most dangerous nations in the world for journalists.
But Corchado's isn't just any reporter in Mexico as a funny anecdote underscores:
"Look, I won't bullshit you," Corchado is told by a U.S. investigator as he's trying to figure out who may be trying to kill him.
"First, the good news. Drug traffickers don't want to mess with an American correspondent. The attention threatens their business."
"That's great," Corchado tells the source. "So what's the bad news?"
"You don't look American, bro," the investigator tells him.
Corchado is a Mexican-American reporter working in Mexico, and that's a double-edged sword all its own.
That is also what's important about "Midnight in Mexico." Corchado is no ordinary foreign correspondent in Mexico but an American who was born in Durango, Mexico, and had immigrated as a child with his parents from Mexico. They pursued a better life in America – and now the prized son of that American Dream family could wind up being snuffed out in his ancestral homeland by the good, the bad or the ugly of that country.
There have been some American Latino journalists who have knocked the book. I'm not sure why. Professional jealously perhaps is a start. Their own work, in many ways, pales in comparison with Corchado's.
For Corchado may rank at the top of the small heap of American Latino journalists working on U.S. newspapers. At The Dallas Morning News, for whom he is the Mexico bureau chief, he has covered not only the cartels and Mexican politics but also everything from the disappearance of women in Juarez to the exodus of Mexico's middle class to the United States.
Obviously, Corchado survived the threats against his life, but the danger was real.
In 2007, he was awarded the Maria Moors Cabot award from Columbia Journalism School for extraordinary bravery and enterprise. In 2009, he was a Nieman Fellow at Harvard University.
"If anything," Corchado writes, "Mexico has taught me to believe, even against all odds sometimes against my own instincts to have faith, the kind of faith my mother tried teaching me for so long, faith that chases away evil."
Originally published on VOXXI as 'Midnight in Mexico': Reporting on Mexico while on a hit list
BEFORE YOU GO
PHOTO GALLERY
Mexico's Drug Cartels