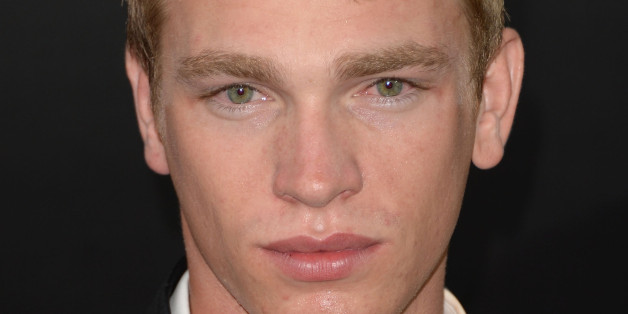 Calvin Klein's ex and wannabe model Nick Gruber was reportedly booted from a party on New York's Fire Island this weekend after being rude to guests and demanding that gay people not touch him.
Porn king and Lucas Entertainment CEO Michael Lucas was partying in a VIP tent he rented at Ascension, a weekend-long event on Fire Island that benefits the Fund in the Sun charity. Gruber supposedly "crashed" the party to announce he is now straight, despite his on-and-off relationship with Klein, the New York Daily News notes.
"I have no idea why he was there in the first place but some how he made his way into my tent," Lucas told The Huffington Post on Tuesday. "I've never heard about him, I just witnessed him acting incredibly rude to other people. Also... [he] was very vocal about the fact that he is straight and doesn't want gays ... touching him. And it's not that they were touching him, it's just that it was crowded, so people bumped in to each other. He came to the party to obviously make some statement."
"It's funny that people were telling me how they love my 'guts' for kicking him out but, for me it was a no brainer to kick a raging homophobe out of a gay event," Lucas added. "It didn't matter to me who the guy was. I would kick him out whether he was famous or not. I've never been intimidated by anyone."
Nick Gruber's representative, Matt Rich, had a different account of the events.
He told HuffPost the various versions of the story that have been published thus far are not credible. He says Gruber was invited by the coordinators of Ascension. He went into a particular tent, was asked to leave and left. Gruber had a "great time" and later sent an apology about the incident, he said.
As for Gruber making those "straight" proclamations, Rich reasoned, "After about the fifth guy grabs your ass, you say, 'Look, I'm not interested.' He apologized. He didn't know what kind of party this was going to be."
Rich also said Gruber's relationship with Klein was a "close companionship." He said he has never heard either party involved describe it as an intimate one.
Gruber spoke with Gawker Monday and said he doesn't want to be called "gay" because "that information is false."
"I don't believe in labels, I believe in what my heart tells me I love. If people say, 'What are you?' I say, 'I'm not gay. I'm straight, but I believe in love,'" Gruber said. "The only [relationship with a man] I had was with Calvin. I don't believe in labels. I believe in love. If someone asks me what I am, I'd say primarily straight."
BEFORE YOU GO
PHOTO GALLERY
Celebrities Who've Faced Gay Rumors