Six of Colorado's 64 counties have now opted to put the 51st State Initiative on their ballots, asking voters if they want to secede from the state and become the state of North Colorado.
Phillips and Logan counties have become the latest to add the question of North Colorado to the ballot, joining Weld, Cheyenne, Sedgwick and Yuma counties.
According to a report by The Denver Post, 10 of the state's northeastern county commissioners have publicly expressed interest in seceding from Colorado. Weld County commissioner Sean Conway has predicted that voters in his county will pass the initiative 60 percent to 40 percent.
Rural, predominantly Republican counties in north and northeastern Colorado announced their plan to create a 51st state in June. Supporters have cited new state laws passed by the Democratic-controlled legislature -- including gun control measures, increasing renewable energy standards in rural areas, curbing the perceived cruel treatment of livestock and expanded regulation of oil and gas production.
"They don't understand the needs of rural Colorado," Barbara Kirkmeyer, Weld County District 3 commissioner, told 7News.
The vote, however, has been regarded as largely symbolic, since a new state would have to be approved by the state legislature, the governor and Congress.
The last state to successfully secede was West Viriginia, in 1863.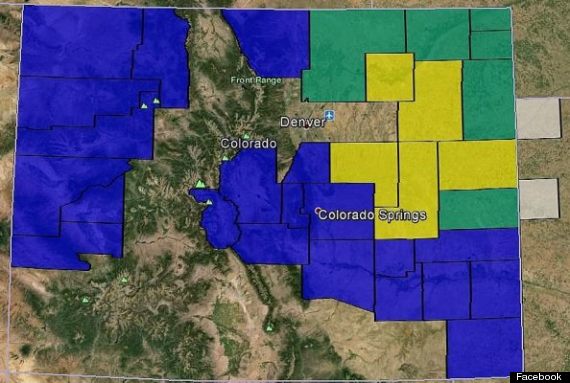 A Google map of the Colorado counties that had added the 51st State Initiative to their ballots or are in talks to do so. According to 51st State Initiative organizers, the counties highlighted in yellow support the initiative and are likely to add it to their ballot. The counties in blue are still discussing the initiative. The counties in green have already added North Colorado to their ballots.
BEFORE YOU GO
PHOTO GALLERY
People Who Want More Guns In Schools