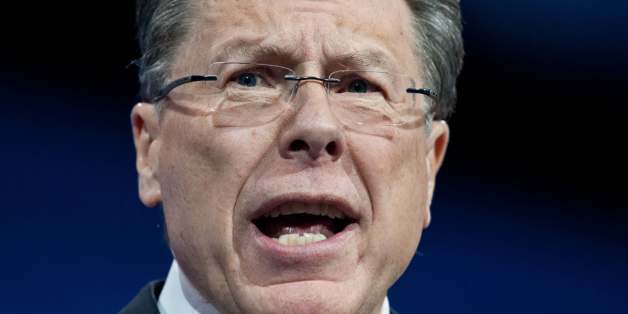 Wayne LaPierre, executive vice president of the National Rifle Association, warned "Americans who cherish the Second Amendment" that the scandal surrounding the Internal Revenue Service's targeting of conservative groups could potentially affect gun lovers.
In an op-ed published by the Daily Caller on Monday, LaPierre claims the IRS wanted "to intimidate and silence specific voices in the political spectrum." He then proposed a "what if" scenario in which those wishing to own a gun would be required to answer questionnaires that would then be analyzed:
And this gets us to the Second Amendment, to the efforts by the likes of billionaire New York City Mayor Michael Bloomberg, his cabal of machine politicians, and the likes of anti-gun U.S. Sens. Charles Schumer and Dianne Feinstein.

Imagine if the biggest step in their confiscation scheme—"universal gun owner licensing and registration"—were a reality. Acquisition, transfer or continued ownership of firearms could depend on the whim of federal bureaucrats—just like the IRS operation—in analyzing questionnaires that gun owners would be required by law to answer.

This "what if" scenario closely tracks the way the IRS wields bureaucratic power to scuttle the First Amendment rights of targeted "conservative" Americans—most of whom are our people, fighters for Second Amendment freedom.
"This scenario exactly mirrors what the IRS is subjectively doing to Americans seeking tax-exempt protection under the law," LaPierre wrote. "It could happen to us if we fail to stand and fight."
Controversy erupted when the IRS apologized in May 2013 for the inappropriate targeting of conservative groups during the 2012 election. Democrats released IRS documents in June that showed the agency targeted progressive groups applying for tax-exempt status in addition to conservative ones.
Republican lawmakers continue to put pressure on the IRS, with Representatives Darrell Issa and Jim Jordan leading a probe into the matter for the House of Representatives Oversight and Government Reform Committee.
Click here to read LaPierre's op-ed in the Daily Caller.

BEFORE YOU GO
PHOTO GALLERY
People Who Want More Guns In Schools