The body of 12-year-old Adriaunna Horton has been found, according to local media outlets.
The child's father told reporters about the discovery Wednesday afternoon. The Missouri State Highway Patrol confirmed a child's body was found by searchers, but said it could take up to 24 hours to make a positive identification. However, officials did say the search for the child has been suspended, KY3 News reported.
Authorities would not say exactly where the body was discovered, but they did say it was found in a rural area outside of Golden City.
The Barton County Sheriff's Department has charged Bobby D. Bourne Jr., 34, of Lamar, Mo., with felony kidnapping in the case. He is being held on a $1 million bond.
According to Sgt. Jason Pace, of the Missouri State Highway Patrol, Adriaunna Horton was reported missing by her family Monday evening.
"She was last seen getting into a vehicle near Hazel Park in Golden City," Pace said. "At approximately 7 p.m. [Monday] evening, officers ... made contact with the reported vehicle and detained the driver for questioning. As a result of the investigation, charges were filed."
Authorities said they issued an endangered missing person alert and not an Amber Alert because the vehicle and suspect were quickly located.
In an interview with KY3 News Adriaunna's father, James Horton of Golden City, said his daughter went to the park to play Monday after she got home from her first day of school.
"She was playing with her sisters and two friends," Horton said.
The girl's father reportedly knows Bourne, who once worked for him. No further details on their relationship were released.
Adriaunna's 8-year-old sister, Lydia, said she was with Adriaunna when Bourne approached the girls.
"He said, 'can you help me find my two youngest daughters? They went over to their best friend's house,'" Lydia told KSPR News. "Then he said to sissy, 'I have a secret to tell you when we get on the highway.'"
Lydia said she turned around and when she looked back her big sister was gone.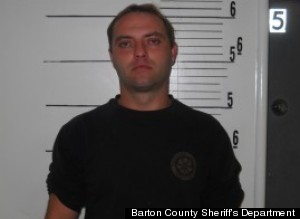 Bobby D. Bourne Jr.
According to Barton County Sheriff Mitchell Shaw, about 90 law enforcement officers from 15 agencies participated in the search for Adriaunna.
Investigators won't comment on what, if anything, Bourne has said since his arrest. A jail official said records do not indicate whether he has an attorney.
Anyone with information in the case is asked to contact the Barton County Sheriff's Department at 417-682-5541.
BEFORE YOU GO
PHOTO GALLERY
Missing Children