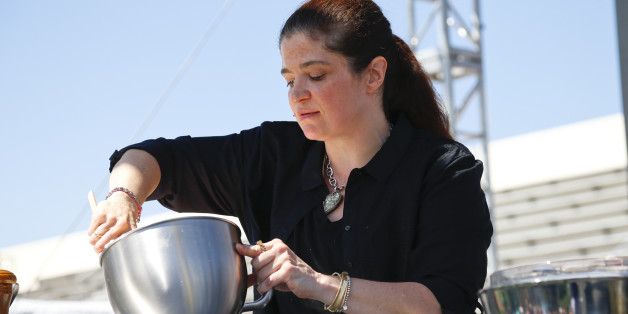 Chef and TV personality Alex Guarnaschelli stopped by WTF with Marc Maron last week to talk cooking, writing, being on TV and more. Guarnaschelli is one of only a handful of chefs that have ever appeared on the podcast, which actually seems kind of crazy since Maron is completely obsessed with food and cooking. If you didn't know that before, either from listening to the podcast or from his appearance as The Angry Chef in Saveur, you'll definitely know it after hearing this episode.
Maron and Guarnaschelli get pretty rhapsodical about how they both learned to love to eat and cook (Maron himself worked in kitchens for a while and likes to think he may have become a chef in another life). We also get to learn some amazing stuff about the Iron Chef, who grew up in New York City, got a BA in Art History from Barnard and, of course, get to hear her be characteristically enthusiastic about the searing of meat. Our favorite part was Guarnaschelli's advice on becoming a chef: "Just pick a thing and be it."
Check out this clip about how tough the 'Iron Chef' process can really be.
We really can't recommend enough that you go listen to the full podcast episode on WTF.com. We're pretty geeky for the show when comedians are on, but Maron really seems to fall into a particularly pleasant and inquisitive groove when he has a chef as a guest. Marc, we're not saying you missed your calling, but we really hope you keep talking to food people.
Want to read more from HuffPost Taste? Follow us on Twitter, Facebook, Pinterest and Tumblr.
BEFORE YOU GO
PHOTO GALLERY
Best New Chefs 2013