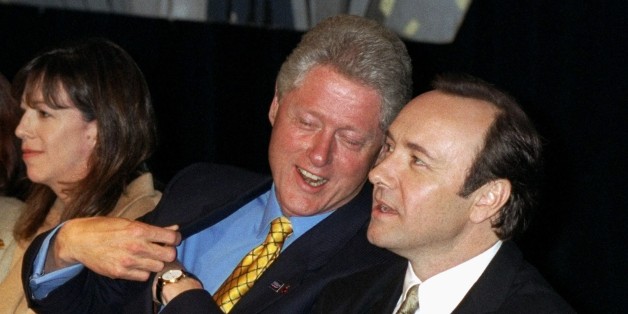 A Netflix binge is a common activity these days, and former president Bill Clinton is the first to admit he isn't above it ... especially when it comes to "House Of Cards."
While on "Charlie Rose" this week, "House Of Cards" star Kevin Spacey said Clinton told him that he watched all of Season 1 in three days.
"I love that show. It's so good," Clinton apparently told Spacey.
The lovefest got us thinking: what other shows are politicians watching?
Check out who's tuning in to the following eight TV shows.
1. "Modern Family"
Not only did Barack Obama admit that he, Michelle, Sasha and Malia watch the show, but 2012 Republican presidential candidate Mitt Romney said he and his wife Ann are all about the ABC comedy.
"Ann loves 'Modern Family' too -- it's our favorite show to watch together," Romney told TV Guide.

Vice President Joe Biden is also a frequent "Modern Family" viewer.
2. "Parks And Recreation"

On that note, remember when Joe Biden guest starred on "Parks And Recreation"? Turns out the NBC comedy is one of his favorite shows as well, and the same goes for the Obama family.
3. "Homeland"
President Obama's TV tastes are hardly limited to comedy. He loves Showtime's "Homeland," and according to Damian Lewis -- who plays Brody on the series -- he's ready to give the "Homeland" writers a foreign policy heads up at a moment's notice.
"I did sort of joke with him that the creators of the show had asked him to give us a heads up on any foreign policy moves so that we could just stay current with Season 2," Lewis told TV Guide. "And he looked me straight in the eye and said, 'I'll be sure to do that.' Didn't bat an eyelid. I found he had a great sense of humor."
4. "Downton Abbey"
It seems former Secretary Of State Hillary Clinton has fallen hard for Masterpiece's "Downton Abbey," as evidenced by one of her tweets last week.
.@RachaelRad, tweet and ye shall receive. And I see that you're a fellow Downton Abbey fan. Birds of a feather it would seem!

— Hillary Clinton (@HillaryClinton) August 15, 2013
5. "Scandal"
In addition to "House Of Cards," Bill Clinton -- who saw a fair amount of personal scandal during his time as president -- is a big fan of the Washington-centric ABC drama.
"Bill Clinton was another person where I was like, 'What?! You watch 'Scandal'?!'" "Scandal" star Kerry Washington told EW. "I feel like it happens at least once a week -- that I am totally floored by somebody who watches the show."
6. "The Biggest Loser"
It's no secret that First Lady Michelle Obama is all about living a healthy lifestyle, and she even appeared on the weight loss reality series. But according to her husband, she also enjoys watching the show while working out.
"Michelle ... likes watching 'The Biggest Loser' because the contestants inspire her," Obama told TV Guide.
7. "Here Comes Honey Boo Boo"
Biden's favorite shows may be "Parks And Rec" and "Modern Family," but the vice president admitted to catching bits and pieces of TLC's "Here Comes Honey Boo Boo" too.
"'Honey Boo Boo' is not top on my list, but I am aware just, you know by catching snippets on Air Force Two, (that it is) quite a phenomenon,'" Biden told told 93.9 MIA radio. "But, but I do try.'
8. "Scooby Doo"
It may be a show of yesteryear, but New Jersey governor Chris Christie once told a four-year-old that "Scooby Doo" was his favorite show.
"When I was four, my favorite show was Scooby Doo, too," Christie told the boy when he said he loved the cartoon.
Christie was seven when the first episode of "Scooby Doo" aired, but hey -- we'll give him props for trying.