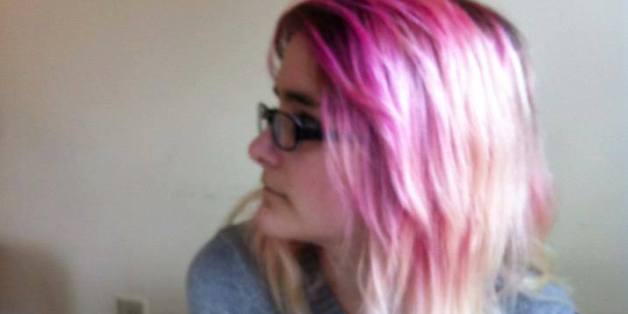 When Danielle Walters saw her mother suddenly lose her job, the concerned teen knew there was nothing she could do. When her father moved out, she knew there was nothing she could do about that either.
But when the 14-year-old's family was at risk of losing their beloved Connecticut home, that's when the determined girl decided she could no longer watch her life get torn apart any further.
After Danielle's mother, Noelle Walters-Davis, was let go from a local credit union, the precocious teen hatched a plan to help save their Suffield, Conn., house, the New York Daily News reported.
Danielle took to Tumblr in June and posted a photo of the soaps her mother handcrafts and has been selling on Etsy for three years. Danielle candidly shared her family's hardships and earnestly asked readers to reblog the post to spread the word.
Her mom had always loved making scented candles and soaps and hoped to turn Suffield Suds, Scents & Sundries, the business she had named after her family's town, into a full-time gig.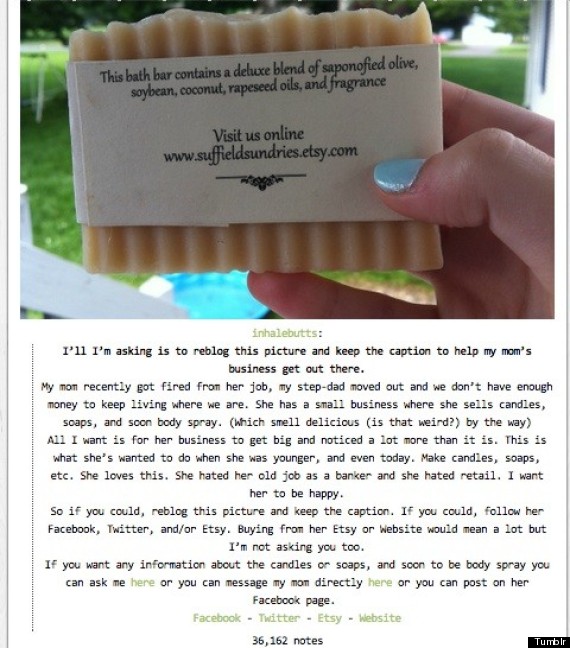 "All I want is for her business to get big and noticed a lot more than it is," Danielle wrote on Tumblr. "This is what she's wanted to do since she was younger, and even today. Make candles, soaps etc. She loves this."
Walters-Davis had no idea that her daughter was singlehandedly trying to rescue her from financial ruin.
Before Danielle reached out on Tumblr, Walters-Davis told the Daily Dot that her sales had been "pretty much non-existent."
But soon after Danielle pleaded to the Internet for help, people started taking notice.
When Walters-Davis checked her email on Saturday, she was stunned. She had sold more than 200 bars of soap -- her entire stock-- and 400 candles. Her site had also pulled in more than 10,000 customers per day, according to the New York Daily News. Danielle's Tumblr post now has more than 36,000 notes and the company's Facebook page has surpassed 2,000 fans.
Fans have been especially moved by the Danielle's heartwarming support of her mom.
"I love the story about what [Danielle] did to help your business," one fan wrote on Facebook. "I will definitely be placing an order."
Walters-Davis hopes that if her business keeps booming the way it is, then she'll be able to keep her family's home, a boon she credits completely to Tumblr and of course, her daughter.
"I am beyond grateful for the outpouring of kindness and support from the Tumbler community!" Walters-Davis wrote on Facebook. "My heartfelt THANK YOU goes out to each and every one of you!"

BEFORE YOU GO
PHOTO GALLERY
5 Awesome Charity Tumblrs