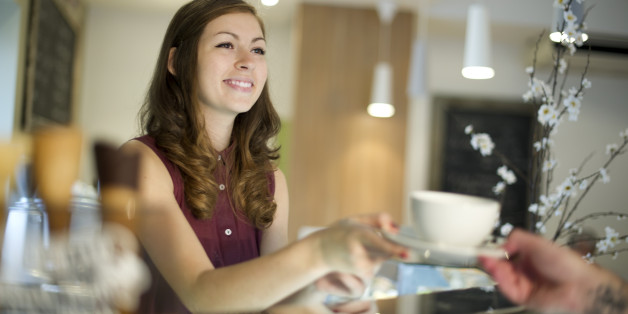 By Rachel Wendte
It's finally time to start college! After four years of hard work, you have an acceptance letter that's made it all worth it. The next question is: how are you going to pay for it? For many pre-collegiettes about to start school, the cost of college can be tough to handle. If you'll be putting yourself through school, it can feel even more stressful and uncertain. To help you get started, Her Campus talked to one fabulous collegiette who is currently paying for college on her own. She told Her Campus how she made a financial plan, how she balances her schedule, and how she handles it all without sacrificing a great college experience.
Sedona's Story
Sedona Murphy is a junior at Haverford College in Pennsylvania. Growing up in South Boston with her twin brother and mother, she experienced for herself the volatile Boston public school system and was in and out of several schools. With the help of her grandmother, she was fortunate to attend a private middle school, and eventually, she and her family moved to the suburbs for a better school district. Sedona's mother worked 60 hours a week to pay for the move and to keep their house.
Sedona attributes her good education to her mother's work ethic and strength. "The school district was amazing and it offered me the chance to pursue higher education because I knew I was getting the foundation I needed for college," she says. "I also knew that I would have to pay for college largely on my own, but higher education is absolutely worth it. I want to be a doctor and my mom gave me what I needed to get on that track. I just had to figure the rest out."
Save Early, Save Often
If you plan on paying for all or part of your education yourself, you might have begun working during high school. Sedona says this was an important part of her college savings plan. "To pay for college, I started saving up all throughout high school," she explains. "Even entering high school, I had amassed a modest savings. I understood the value of saving money through watching my mother work so hard."
Saving money is important, and it's never too early to start. Small amounts of money can turn into serious cash with smart saving, so take that into consideration when you're making your plan for college.
"It was and will always be a balancing act," Sedona says. During high school, she worked 25 hours a week at an ice cream store, played sports, took a demanding course load, and still found time to hang out with her friends to keep her sanity. "Finding time to spend with friends is absolutely crucial because it is easy to let the stress of the future consume you," Sedona advises. "Just always remember to enjoy what is happening in the now." By the time she graduated high school, Sedona had saved enough money to pay for her first year of college.
As the cost of college increases, loans are becoming more commonplace for students. A Fidelity survey found that graduates in the class of 2013 graduated with an average of $35,200 in total debt. Unfortunately for many collegiettes, there's just no other way to pay for college than with loans and aid. With that in mind, we laid out some financial aid options you'll want to explore if you're looking to put yourself through school.
The first step in applying for any kind of federal financial aid is to fill out the Free Application for Federal Student Aid (FAFSA). Filling out the FAFSA will allow your college to see your amount of financial need, and college financial aid offices may use this information when calculating their own aid packages for you in addition to any federal grants, loans, or work-study funds you receive. Each college or university sets its own deadlines for FAFSA completion, so the sooner you can fill it out, the better! The amount of aid you receive will be based on your financial need: the difference between your cost of attendance to any one university and the amount of money that your family can expect to contribute based on their financial stability.
BEFORE YOU GO
PHOTO GALLERY
Best Advice For Teens, According To Redditors