Talk show host Jerry Springer defended Dr. Phil McGraw's controversial drunken sex tweet on CNN Wednesday, arguing that the topic "should be discussed."
The tweet in question came from talk show host Dr. Phil's Twitter account Tuesday: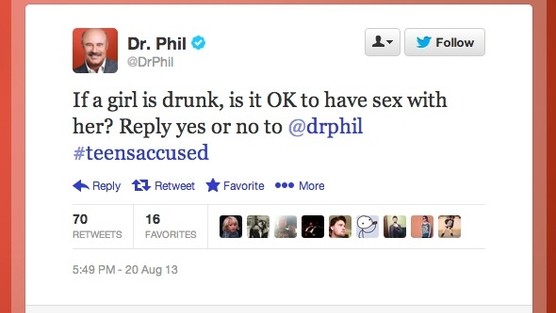 The tweet was removed, but not before sparking a backlash that led to the creation of a Change.org petition asking Dr. Phil "to produce a show that shines a light on survivors of rape and sexual assault and begin a national conversation about the specifics of consent – which includes not raping people while they are drunk or otherwise unable to consent."
Springer argued that the tweet was appropriate for a serious talk show, and was an important issue that should be discussed in such a venue.
"We can't be blind to the fact that young people do drink. There are a lot of young people that do have sex. How many times have we heard on any show, 'Oh, I'm sorry what I did, but we were drinking.' It is more common than we want to believe... I don't see what the problem is," Springer said.
Springer also said every parent should "teach your son you don't ever, ever, ever mess around if a young woman is drinking, you don't do it."