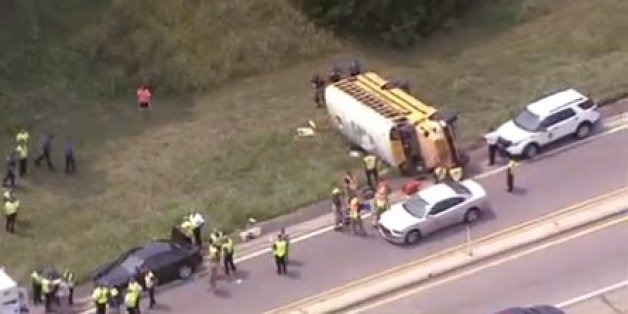 A school bus transporting children overturned early Wednesday afternoon while traveling along a Kansas highway, the Kansas City Star reports.
Emergency crews responded to the scene of the accident, which took place along a ramp connecting Kansas 7 and Kansas 32 in Bonner Springs, WGEM reports. Multiple students were reportedly taken to an area hospital with non-critical injuries.
Initial reports from KMBC indicated that the children on the bus were 6th grade girls from Pembroke Hill School, a private school in Kansas City, Mo., on their way to an overnight trip.
Television footage showed the bus on its right side slanted down a hill and pointed perpendicular to the road. The bus driver was also taken to the hospital.
The school posted the following note to its Facebook page:
6th grade parents: Please pick up your children (boys and girls) at Bonner Springs High School, 100 McDanield St. Bonner Springs, KS. Photo ID required.
Bonner Springs is located in Wyandotte County, Kan., approximately 18 miles west of Kansas City, Mo.
UPDATE: The Associated Press reports that "None of the injuries were life-threatening, but 20 of the 36 people onboard, including the driver, were taken to hospitals."
BEFORE YOU GO
PHOTO GALLERY
Dangerous Days