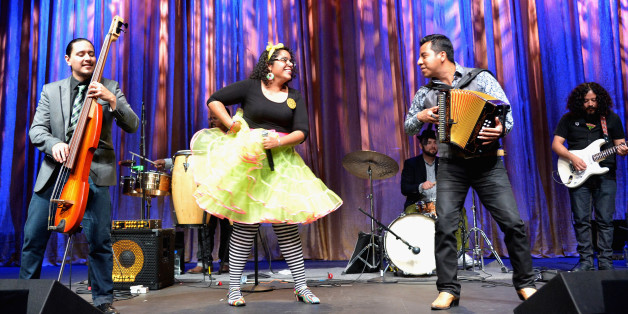 La Santa Cecilia is the little band from Los Angeles with a powerful voice thanks in part to singer La Marisoul but also thanks to their very outspoken support for various human rights issues.
Their previous single, "El Hielo," was a strong statement in support of undocumented immigrants and their fight for naturalization. The group has even traveled across the country playing shows in support various immigrant groups and pro-immigrant protests.
The band's latest release, however, is anything but serious. "Monedita" is a much more lighthearted and fun affair than "El Hielo." The song, which is also on the group's Universal Music debut, "Treinta Días," won't pull at the listeners' heart strings but still offers a thoughtful message about money and what people put value on all while giving them something to dance to.
The song clearly belongs to members Jose "Pepe" Carlos and La Marisoul as their instruments (Pepe's accordion and Marisoul's voice) lead the way. There's some wonderful percussion and guitar work in there as well, but Carlos and Marisoul are the stars on the track. His accordion follows her along as she sings how "el sol brilla mas que el oro cuando me levanto (the sun shines brighter than gold in the morning)" and other lines on how her freedom is worth more than any stack of money or the items that stack can purchase. Wealth, as the song suggests, comes with its own weight, one she is glad to not have to carry around.
La Santa Cecilia enlisted the aid of living legend Sergio Arau to animate the video. Arau, who has an extensive artistic resume (writer/producer/director of "A Day Without A Mexican," guitarist/singer with Botellita De Jerez and multimedia artist), designed a video in tune with the song's message. He doesn't use any fancy tricks or effects but opts instead for something simple and quick without too much detail.
You can follow up with La Santa Cecilia's latest happenings on their Facebook page. Watch the band's "Monedita" music video below:
La Santa Cecilia's 'Monedita' music video
Originally published on VOXXI as La Santa Cecilia goes on a lighthearted, animated trip in 'Monedita'
BEFORE YOU GO
PHOTO GALLERY
27 Celebs You Didn't Know Were Latino