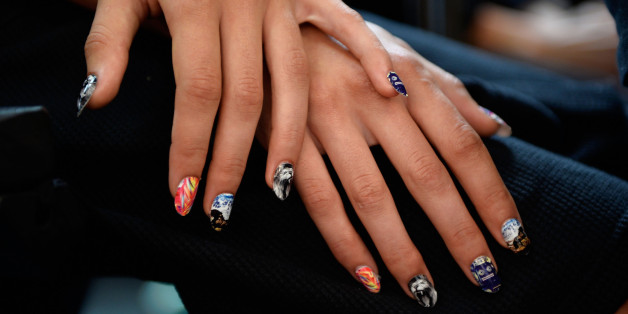 It's official: Nail art is everywhere.
If you thought Pinterest, Twitter, Instagram and Facebook made the beauty trend inescapable, get ready for nail art to take over your television sets. Oxygen has just announced a new competition show that will be called -- what else? -- "Nailed It!" According to Variety, the reality series will feature "the country's top nail artists" facing off in challenges that will utilize gels, wraps, polishes, glitter, lace, 3D objects and more intense manicure techniques. The prize? Some cash and the "ultimate nail artist" title.
Before you roll your eyes (and trust us, we did), stop and think about the ubiquity of nail art. If we're spending hours searching DIY methods online and paying major bucks for our polishes, then surely there's a sizable demographic that will sit, jaws agape, in front of their TVs to watch the nail artists in action. Right?
Hey, if E!'s red carpet "Mani Cam" taught us anything, it's that the people are at least curious about the cool things professionals can do with nail art (thanks, Zooey Deschanel). So tell us: Would you be willing to watch an entire series about nail art? Or does the concept seem a little too small in scale for you?
Nail art can get crazy:
PHOTO GALLERY
DIY Nail Art
Want more? Be sure to check out HuffPost Style on Twitter, Facebook, Tumblr, Pinterest and Instagram at @HuffPostStyle.