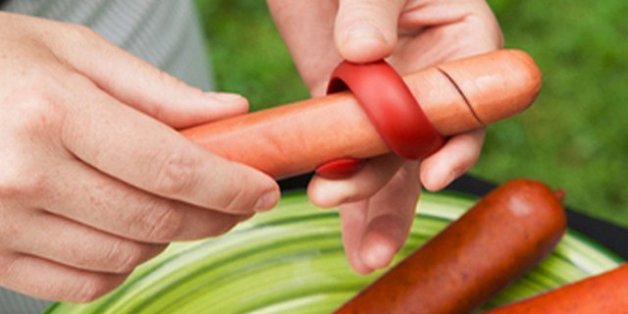 We all know that spiral cut is the only way to eat hot dogs. Condiments get nestled into the crevices and you get more of that caramelized grilled flavor. (If this is news to you, stop reading and watch this video now.) The only problem with spiral-cut hot dogs is that it's not that easy to make the spiral cut -- some of us are just not that handy with a knife.
Luckily, there's now a cheat for those of us deficient in those handy knife-skills, and its the Cyclone Spiral Hot Dog Slicer. Sure, the Cyclone Spiral Slicer is yet another gadget to fill up your kitchen. And, it's not nearly as cool as knowing how to make a spiral cut with a knife. But, it's better than having no spiral cut at all. Or a spiral cut that turns into a hot dog split in two (or four or six).
When it comes to spiral cut hot dogs, getting the job done is really all that matters. You can get your Cyclone Spiral Slicer at The Fancy, $12 for a set of two.
Want to read more from HuffPost Taste? Follow us on Twitter, Facebook, Pinterest and Tumblr.
Check out these hot dog recipes.