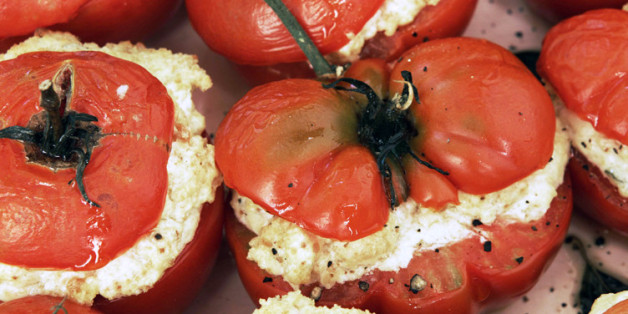 If there's one thing you can count on in the summer, it's great tomatoes. And lots of them. Tomatoes, as much as we love them, come at an almost unmanageable speed. But that doesn't mean we want to stop eating them, we just need more ways to prepare them. While we have a number of great recipes for fresh summer tomatoes, only some are suitable for those tomatoes that have seen better days. When you have those kinds of tomatoes on hand, your best solution is to make this stuffed tomato recipe.
Roasted stuffed tomatoes are the best way to use up sad looking tomatoes, especially if you stuff them with goat cheese (and even more so when that goat cheese is flavored with fresh basil and garlic). Keep this recipe nearby, we're pretty certain you'll be using it often.
Get the Oven-Roasted Tomatoes Stuffed with Goat Cheese recipe
Want to read more from HuffPost Taste? Follow us on Twitter, Facebook, Pinterest and Tumblr.
Get more tomato recipes!
PHOTO GALLERY
Tomato Recipes