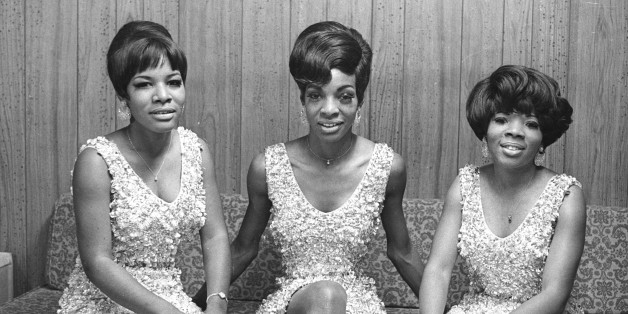 Summer's here, and the time is right..
When Martha Reeves joined Motown Records, it wasn't because owner Berry Gordy thought she had the chops to become one of the label's biggest stars. In fact, she was originally hired in as a secretary.
But Reeves pushed for a chance to sing on demos Motown produced in the tiny recording studio built within a home on Detroit's Grand Boulevard. They didn't call themselves the Vandellas yet, but Reeves, Rosalind Ashford, Annette Beard and Gloria Williams (who later dropped out) all began to sing backup for a Motown up-and-comer named Marvin Gaye. Gordy was so impressed, he eventually offered the women a recording deal -- and dubbed them Martha and the Vandellas.
Their early singles caught the ears of American listeners -- tracks like "Come And Get These Memories" and "(Love Is Like a) Heat Wave" burned up the charts. Then, another Motown singer, Kim Weston, turned down a now unforgettable track, and the trio agreed to record a demo of "Dancing in the Street."
"When Martha got into the song," songwriter William "Mickey" Stevenson told Rolling Stone, "that was the end of the conversation!"
And on August 22, 1964, "Dancing in the Street" first entered the Billboard rankings, where it rose to #2 on the Billboard Hot 100 and became a smash hit in the UK. It was official -- "everywhere around the world," they seemed to be dancing to Martha & the Vandellas.
The song also became a protest anthem in the 1960s, as Americans took to the streets to fight for civil rights and against the Vietnam War. The song's overwhelming popularity outlasted the Vandellas, who officially disbanded in 1972 (though they've occasionally appeared together since).
Reeves, who beat addictions to prescription pills and alcohol in the late 1970s, consistently toured and served two terms on Detroit City Council.
"Dancing in the Street" has been covered by some of the biggest names in American music, including the Mamas and the Papas, Van Halen, and even a duet by David Bowie and Mick Jagger. But it's first and foremost a Motown hit.
Watch the video above of Martha & the Vandellas performing on "The Ed Sullivan Show" in 1965, and share your favorite memory of "Dancing in the Street" in the comments.
Hat tip: Detroit Sounds Like This
PHOTO GALLERY
Iconic Motown Records Album Covers