The evolution of the dessert mashup in Chicago continues as one of the city's most popular doughnut shops has paired with a gelato shop to serve up some amazingly monstrous sweet treats.
Behold the gelato doughnut sandwich: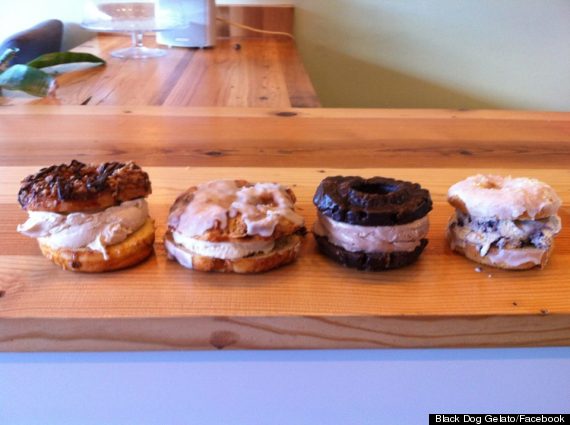 On Thursday, Aug. 29, Black Dog Gelato will be serving up four varieties of Glazed and Infused doughnuts stuffed with their gelato, Chicago magazine reports: A lemon doughnut stuffed with blueberry french toast gelato, a toffee yeast donut stuffed with milk stout gelato, chocolate stuffed with nutella and pretzels gelato and an apple fritter stuffed with salted peanut gelato.
ChicagoFoodies.com was the first to report news of the sandwiches, which range in price from $6-$8, on Tuesday.
According to Black Dog's Facebook page, the sandwiches may be pre-ordered by e-mailing sales@goglazed.com or by calling 312-226-5556 for pickup on the 29th. A "limited quantity" will also be available in-store at both Black Dog locations: 859 N. Damen Ave. in Ukrainian Village and 1955 W. Belmont Ave. in Roscoe Village.
BEFORE YOU GO
PHOTO GALLERY
Food Mashups