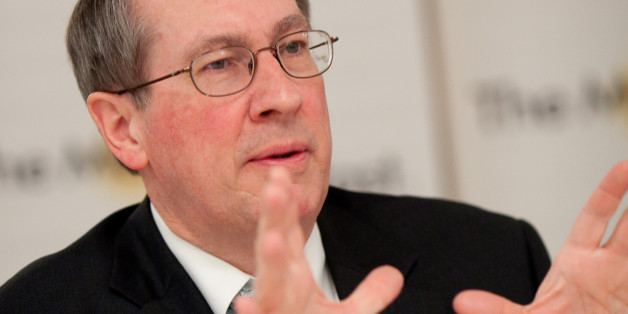 U.S. Rep. Bob Goodlatte (R-Va.) asked the Department of Homeland Security Wednesday to investigate what he says may be fraudulent cases of asylum requests from Mexican nationals fleeing a drug war that has claimed 70,000 lives since 2006.
Hoping to raise pressure on the Obama administration to address the issue, Goodlatte speculated that Mexican asylum applicants are "being coached" on how to apply for asylum, following reports by an ABC affiliate and Fox News earlier this month.
"I am concerned that credible fear claims are being exploited by illegal immigrants in order to enter and remain in the United States," Goodlatte wrote in the letter. A finding of "credible fear," a legal designation referring to immigrants who have a reason to fear returning to their home country, is the first step to initiate an asylum claim.
Goodlatte points out that the overwhelming majority of Mexican nationals claiming asylum do not ultimately receive it, using statistics culled from unspecified press accounts. He implies that the applications overwhelmingly get rejected because they are illegitimate.
But while some 91 percent of Mexican asylum applications are denied, according to DHS figures cited by the Associated Press, applicants are not necessarily refused because their claims are fraudulent.
Drug war violence has become rampant in Mexico since former President Felipe Calderón launched a frontal assault on the country's cartels. And drug gangs aren't the only ones to wreak havoc on the Mexican public in recent years -- evidence suggests that Mexican police and military have tortured, summarily executed and forcibly disappeared civilians since the onset of the drug war, according to Human Rights Watch.
Despite the well documented drug war violence and evidence of government complicity, it's difficult for most Mexicans to win an asylum claim because the U.S. government does not generally equate criminal violence with persecution, according to the Los Angeles Times.
Nevertheless, immigration officials have seen an increase in the number of Mexican asylum seekers. Credible fear claims hit 14,610 by the end of June this fiscal year, which ends in October, AP reports. That figure is almost double the 6,824 claims in fiscal year 2011.
The figures refer only to so-called "defensive" applications, filed at ports of entry. They exclude "offensive" applications, filed by people already residing in the United States.
While Goodlatte does not specify the press accounts the letter is based on, the article raises many of the same points and uses language similar to that of two articles published by ABC 10 News and Fox News earlier this month. Both articles quote the same source, former U.S. Attorney for Southern California Peter Nunez, saying that the uptick in credible fear claims is the result of an orchestrated attempt to game the system.
The issue of Mexican asylum cases gained attention last month, when a group of undocumented immigration activists known as the "DREAM 9" crossed into a legal port of entry at Nogales, Arizona, as a form of protest against the Obama administration's deportation record.
Though three of the activists had traveled voluntarily to Mexico, all nine made asylum claims and were released after immigration authorities established that they met the "credible fear" threshold. Though free, they remain in deportation proceedings while their asylum applications make their way through the courts.
BEFORE YOU GO
PHOTO GALLERY
27 Reasons Why U.S. Shouldn't Lead War On Drugs