Katy Perry and Lady Gaga are in a heated battle for the top of the singles chart, with the release of Perry's "Roar" and Gaga's "Applause."
Pop fans got an early listen to both tracks last week as each leaked ahead of their official releases. Perry beat out Gaga, selling 557,000 copies to the 218,000 sold by "Applause." The fierce competition has led to some tension, especially on the part of the singers' fans.
An early look at the seating arrangement for this Sunday's Video Music Awards shows that either MTV plans to capitalize on the competition, or they just don't care if things get awkward. Gaga and Perry are set to sit next to one another at the upcoming awards show, airing on MTV at 9:00 PM E.S.T.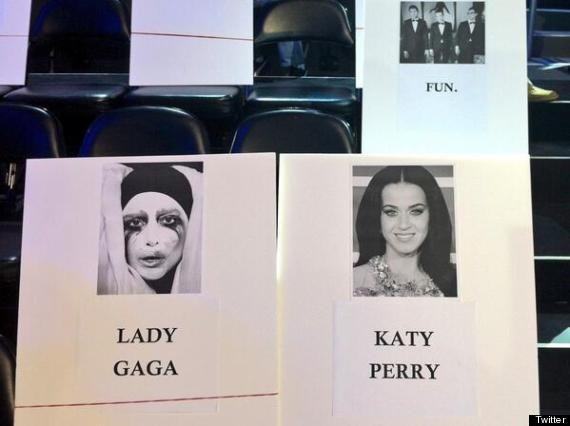 Another surprise that a peek at the seating chart offered was the inclusion of girl group Danity Kane. The Diddy-created band, which broke up in 2009 but was rumored for a reunion earlier this year, has seats at the awards show behind J. Cole and adjacent to Big Sean, according to early photos from Barclays.
BEFORE YOU GO