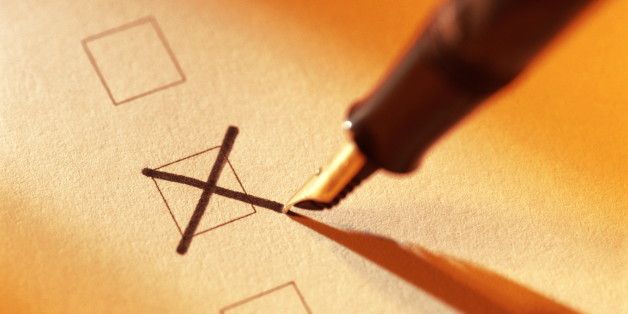 Rasmussen leaves Rasmussen for Rasmussen. Poll watchers react. And PPP takes its linkbait strategy to Louisiana. This is HuffPollster for Thursday, August 22, 2013.
SCOTT RASMUSSEN LEAVES RASMUSSEN REPORTS, STARTS OWN VENTURE - HuffPost: "Scott Rasmussen has left the automated polling company that bears his name, according to a news release posted by the company. 'The Rasmussen Reports, LLC Board of Directors today confirmed that founder Scott Rasmussen left the company last month,' it said. 'In part, the move reflects disagreements over company business strategies.'...Earlier this month, Scott Rasmussen announced the creation of a new company, Rasmussen Media Group, LLC, which he said would 'develop and invest in digital media opportunities.'" [HuffPost]
Poll watchers react:
-New Republic's Nate Cohn: "[Rasmussen's] polls were biased toward Republican candidates in two consecutive cycles, outrageously so in 2012. He refused to interview voters with a cell phone, even though mounting research confirms they tilt toward Democratic leaning groups. He weighted his samples to a fantasy electorate where there are millions more white, Republican voters…there's not yet evidence that post-Rasmussen Rasmussen Reports won't tolerate the same flawed polls that adulterated the polling averages for most of 2012. For now, Rasmussen Reports looks like it's still as bad as Rasmussen, even without Rasmussen." [New Republic - Note: Rasmussen's methodology page says they use "an online survey tool" to "reach those who have abandoned traditional landline telephones."]
-Business Insider's Brett LoGiurato: "Rasmussen hasn't undergone the same review of its polling practices as Gallup, which undertook a thorough review and announced changes to its methods in early June. As The New Republic's Nate Cohn points out, Rasmussen's answer to its problems was to simply 'reweigh their tracking poll to the 2012 exit polls, even though you really, really can't do that.' In short, until Rasmussen is willing to undertake a more comprehensive reform of its methodologies in the wake of Rasmussen's exit, it's still the same Rasmussen. [Business Insider]
-Pollster Steve Koczela - "One indicator of why it matters: Rasmussen did almost a quarter of publicly released 2012 national presidential polls, per @pollster data." [@SKoczela]
-HuffPost's Sam Stein - "Rasmussen Reports post says Scott Rasmussen has left the company, which means there is a 60% chance he's still there. #toosoon?" [@SamSteinHP]
-The Washington Post's Reid Wilson: "I feel like the groundskeepers in Major League. Rasmussen out? Their polls are still crummy." [@PostReid]
-Marist's Natalie Jackson: "So will Rasmussen remain "Rasmussen" without a Rasmussen heading it up?" [@NatalieMJ84]
-Republican pollster Logan Dobson: "As a guy who works at a polling firm [The Tarrance Group] named for a guy who isn't at the firm anymore, I can assure those Rasmussen guys it'll be OK." [@LoganDobson]
PPP, LOUISIANA REPUBLICANS AND THEIR 'DELUSIONS' - Yesterday, the Democratic party affiliated firm Public Policy Polling (PPP) released another of its link-baiting classics: A question posed to Republican primary voters in Louisiana asking who respondents thought "was more responsible for the poor response to Hurricane Katrina: George W. Bush or Barack Obama?" Slightly more selected Obama (29 percent) rather than Bush (29 percent), who was president at the time, while 44 percent opted to say they were unsure (the automated, recorded voice methodology used by PPP offered no other possible responses). TPM's Tom Kludt got an advance look at the results, and his write up trumpeted them with the headline, "Poll: Louisiana GOPers Unsure If Katrina Response Was Obama's Fault." [TPM]
Not surprisingly, the story quickly bounced around the internet. It was picked up by our HuffPost colleagues under the headline, "A Third Of Louisiana Republicans Blame Obama For Hurricane Katrina Response Under Bush," as well as by the New Orleans Times Picayune, Politico, Salon and the New York Daily News. According to Nexis, it won mentions on the MSNBC's Chris Matthews Show on Wednesday and CNN's Newsroom on Thursday morning. By 8 p.m. Eastern time on Wednesday, Tom Kludt's write-up was the number two ranked story on Memeorandum, based on articles commenting on it that appeared on 11 more blogs. [HuffPost, Times-Picayune, Politico, Salon, NY Daily News, Memeorandum]
The problem with this question should be obvious: It was asked only of Republicans and offered just two choices: Bush, who was president at the time and Obama, who was still a junior senator from Illinois. "If you ask the vast majority of Louisiana Republicans to identify the leader most responsible for the Katrina response," the conservative Louisiana blog The Hayride argued, "you're going to get Kathleen Blanco and Ray Nagin as the answer. Replacing those two on the ballot with Barack Obama so that the only choices available are Bush, Obama or 'not sure' is malpractice, and mean-spirited malpractice at that....The question was designed to force Louisiana Republicans to trash the former president in "It's Bush's fault" fashion. And that was transparently obvious to the respondents. Anybody could see what they were trying to do. So 72 percent of those polled basically told PPP to do something anatomically impossible. 44 percent chose the most non-responsive response they could, which was to say 'not sure.' And the other 29 percent went even further and gave the in-your-face answer of Obama. [The Hayride]
Republican pollster Logan Dobson also argued that "it's possible to believe [President] Obama is doing a poor job on the continuing response to Katrina...If you believe the 'response to Hurricane Katrina' ended in 08, that's your mistake, not the respondents to this poll." [@Logan Dobson in two tweets]
Brendan Nyhan, a Dartmouth political scientist who studies political misperception, worries that these types of questions exaggerate the prevalence of false beliefs. "The key point," he tells HuffPolllster via email, "is that there's a distinction between wrong answers that are at least partly attributable to 'real' beliefs (e.g., elite communications, beliefs found via reputable, non-troll polling) and those that are just people expressing partisan sentiment and/or being tricked or answering in a lazy or heuristic manner." He add that the latter issue "is likely to be especially problematic" with the automated methodology employed by PPP.
Asked by HuffPollster for comment, PPP Director Tom Jensen was unapologetic: "The considerable portion of the Republican base that belongs to the birther movement or insists that Obama is not a Christian has made asking questions about the extent to which GOP voters hold other delusional opinions about Obama interesting to us. I think to most people it would seem straightforward to hold Bush more responsible for Katrina than Obama regardless of your feelings about the two of them in general. But I guess that's not the case for 72% of Louisiana Republicans, and I think that's noteworthy and interesting and worth putting out there. The GOP consultant and media class often attacks PPP for asking these questions when I think perhaps their energy would be better directed toward the party base for holding and expressing these opinions."
It would have been even more straightforward to offer a complete list of figures that Republicans might hold responsible, or even ask the question in a completely open-ended way (which, to be fair, PPP's automated methodology does not allow). But the underlying question remains: Was the object of this exercise to identify who Louisiana Republicans really blame for the response to Katrina or to trap them with a question that makes strong partisanship look like delusion?
HUFFPOLLSTER VIA EMAIL! - You can receive this daily update every weekday via email! Just enter your email address in the box on the upper right corner of this page, and click "sign up." That's all there is to it (and you can unsubscribe anytime).
THURSDAY'S 'OUTLIERS' - Links to more news at the intersection of polling, politics and political data:
-More Americans disapprove than approve of the Affordable Care Act, but only 15 percent say they are very familiar with it. [Gallup]
-A Republican poll shows little support for a government shutdown. [Washington Examiner]
-Mitch McConnell leads in an internal primary poll. [Roll Call]
-Virginia voters would like Michael Bloomberg to "(gun) butt out," apparently. [Quinnipiac]
-Most Americans think more work needs to be done to achieve racial equality. [Pew Research]
-A labor coalition opposing Eliot Spitzer finds a much closer race for New York City comptroller than other public polls. [Crain's]
-Milwaukee Journal Sentinel Washington Bureau chief will spend six months studying regional political polarization at the Marquette Law School, collaborating with pollster Charles Franklin. [Marquette]
CORRECTION: A previous version of this story misspelled Tom Kludt's name