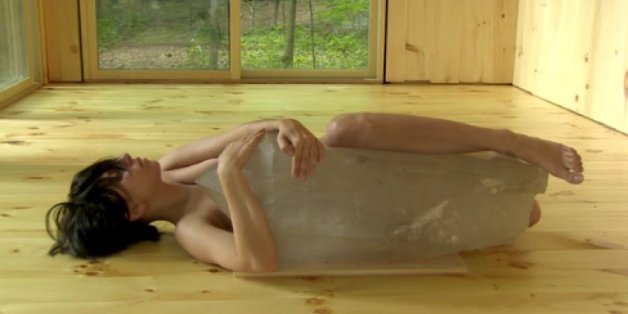 Looks like Marina Abramovic's decision to coax a naked, quartz-hugging Lady Gaga into supporting her newest project has actually paid off. The Marina Abramovic Institute Kickstarter officially reached its funding goal this week, attracting a whopping $631,963 worth of donations last time we checked.
Congratulations, contemporary performance art. You've been kickstarted by over 4,000 people.
Marina announced that she was seeking $600K from her many, many disciples almost one month ago, embarking on a series of strange and wholly "Marina" spectacles to bring attention to her cause. Besides the nude Lady Gaga yoga session, Marina answered ridiculous questions on Reddit, spearheaded a marathon reading of the 1961 sci-fi novel "Solaris," sashayed her way into Jay Z's "Picasso Baby" video, and organized a screaming flashmob in Oslo.
Essentially, she made promoting a Hollywood film look like child's play.
We're certainly happy for the Grandmother of Performance Art, who will now get to launch her performance and education center in a giant (Rem Koolhaas-designed) space in Hudson, New York later this year. We're also shocked to see the widespread support for such a niche art project -- more than 1,000 people donated between $1 and $5 alone.
Relive the moments from Marina's Reddit AMA below and let us know your thoughts on the fully funded Marina Abramovic Institute in the comments.
BEFORE YOU GO
PHOTO GALLERY
7 Things We Learned From Marina Abramovic's Reddit AMA