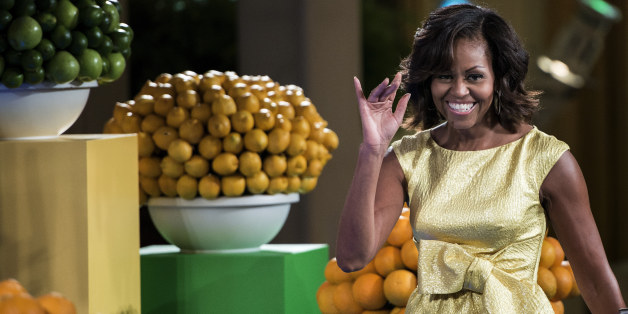 Michelle Obama is planning to reach out to the Hispanic community in a 'giant' way.
In an appearance on Univision's variety show "Sábado Gigante" (Giant Saturday) this weekend, the First Lady plans to promote her Let's Move! national initiative and address the high obesity rates among Hispanic children, according to the Associated Press.
The three-hour Miami-based show is hosted by Don Francisco and includes comedic sketches, contests, musical acts and a popular segment where kids give their opinions on different topics titled "Conversando con los Niños" (Chatting with Kids). FLOTUS will first greet viewers in Spanish then talk with the segment's children about the importance of nutrition and cooking healthy meals with their family, the Miami Herald reports.
In July, Michelle Obama made an effort to address childhood obesity among Hispanics as the keynote speaker at the 2013 National Council of La Raza (NCLR) conference in New Orleans.
"Forty percent of Hispanic children are overweight and 50 percent are on track to develop diabetes," Obama said in her NCLR speech. "While food might be love, the truth is we are loving ourselves and our kids to death. We need to step up, we need to start questioning the behaviors and beliefs that are making our kids sick."
Obesity among Hispanics is higher, in fact. In 2010 the Office of Minority Health found that U.S. Hispanics were 1.2 times more likely to be obese as non-Hispanic whites.
The First Lady intends to address obesity and more on the Spanish-language variety show this Saturday, which will be broadcast on Univision from 8 p.m. to 11 p.m. (EST).
BEFORE YOU GO
PHOTO GALLERY
Don Francisco Parody