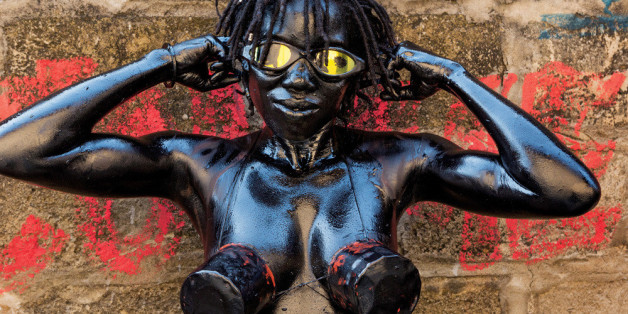 "Behold the artist."
Amid the chaos of everyday life in Kinshasa, the artist has found one way to survive. This vibrant Congolese capital is home to 10 million people and a community that somehow finds creative inspiration in rampant poverty and institutional failure. Despite overwhelming challenges, the city is far from hopeless.
Robert Draper writes in the September issue of National Geographic:
I sought out a local author who once wrote of his native city, "Kinshasa is a city where students do not study, workers do not work, ministers do not administrate." The author's name is Lye M. Yoka. He is the general director of the National Institute of the Arts, and he grinned when I read this quote back to him. "The strength of Kinshasa can be found in two places," he told me. "The first is the melting pot: You find a mixture of all the tribes, and there is no friction between local tribes in the capital city." There were wars between military leaders, he said, but "tribal communities have never suffered civil war."

The second source of the city's strength, he went on, is its "great creativity and improvisation. To the outsider the perception is chaos. For me it is not chaos at all. We've developed an informal system. And within this informal system, there's an organization. We use what we have, and we negotiate everything."

Yoka was, of course, describing the very nature of artistic sensibility. "Artists notoriously do not rely on government," he said. "Their artistic activity becomes a way of withstanding their daily crisis, and also a means of dreaming. The bottom line is that passion motivates them to create—and passion has two meanings. It means to suffer, and it means enthusiasm."

This is Kinshasa, city of art, where travail is muse.
Check out Pascal Maitre's evocative photos of the urban art scene in Congo's capital city in the slideshow below. Head over to National Geographic to read the full story and see more of Maitre's photos from the September issue of National Geographic magazine.
PHOTO GALLERY
Congo's Urban Pulse