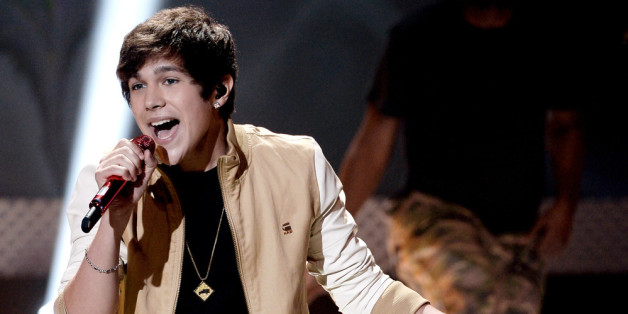 YouTube sensation Austin Mahone took home the Artist To Watch honor at the MTV Video Music Awards on Sunday. The 17-year-old crooner nabbed the award in recognition of his third single, "What About Love."
Mahone, has been likened to Aaron Carter and Justin Bieber, will release his debut album on Oct. 8. "What About Love" marks the most successful single from the project to date, peaking at No. 18 on Mainstream Top 40 chart.
"What About Love" topped Iggy Azalea's "Work," Twenty One Pilots' "Holding on to You," The Weeknd's "Wicked Games" and Zedd's "Clarity" (featuring Foxes) to nab the award, which was formerly called Best New Artist. Along with the new Song of the Summer accolade, it is one of two VMA categories in which viewers select the winner. Past recipients include Guns N' Roses, Nirvana, Fiona Apple and Alicia Keys.
Live updates from the show are available below.
PHOTO GALLERY
Video Music Awards 2013
08/25/2013 11:26 PM EDT
That's It For The VMAs
The 2013 MTV VMAs were something else. Thanks for joining!
08/25/2013 11:26 PM EDT
No, Boo!
YOU'RE GONNA HEAR ME SNORE!!! AM I RIGHT????

— bobby finger (@bobbyfinger) 4 years ago
08/25/2013 11:20 PM EDT
Here's Her Roar
Katy Perry performed "Roar" for the first time, and it was glorious.
08/25/2013 11:18 PM EDT
The Video Of The Year Winner Is ...
08/25/2013 11:15 PM EDT
Joseph Gordon-Levitt Announces The MTV VMA For Video Of The Year
With a silly voice.
08/25/2013 11:12 PM EDT
In Case You Blinked During The VMAs
Ladies and gentlemen, the reunited NSYNC. http://t.co/vsH4DT5Yb2

— Hunter Schwarz (@hunterschwarz) 4 years ago
08/25/2013 11:08 PM EDT
So True
The perfect time for a Bruno Mars performance is totally TWO HOURS into the #VMAs.

— Jesse Fox (@JesseDavidFox) 4 years ago
08/25/2013 11:07 PM EDT
lolz
it would be amazing if nsync reappeared right now by lowering down from the ceiling on marionette strings

— kalkutta (@djkalkutta) 4 years ago
08/25/2013 11:07 PM EDT
Because This Bruno Mars Performance Is Boring
Let's remember this:
Me during Justin Timberlake's performance http://t.co/0IKZ3MXGMy

— things in life (@ItsThingsInLife) 3 years ago
08/25/2013 11:00 PM EDT
Lena Dunham Checks In
VMAs: Stop all this "what's up Brooklyn!!!" What's up is I'm 10 blocks away in my nightgown trying to keep my dog from drinking his own piss

— Lena Dunham (@lenadunham) 4 years ago