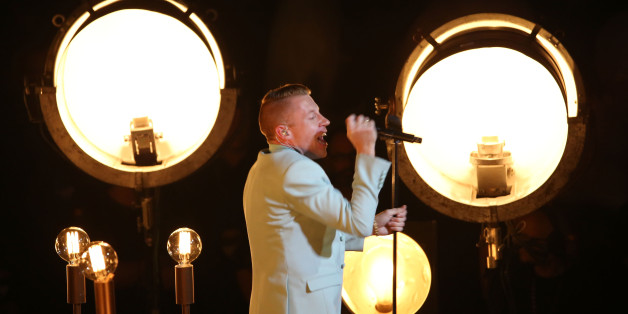 After having a major year with the breakout success of their hit single "Thrift Shop" and the follow-up "Can't Hold Us," Macklemore and Ryan Lewis hit the stage at MTV's Video Music Awards to perform their song "Same Love."
Originally released in 2012, "Same Love" saw a resurgence in popularity earlier this year with the growing fame of Macklemore and Ryan Lewis. The song, a cut off of the duo's album "The Heist," supports marriage equality, written in light of a Washington referendum legalizing same-sex marriage. Macklemore and Ryan Lewis gave an emotional performance of "Same Love" with Mary Lambert at the VMAs, after being introduced by A$AP Rocky. Jennifer Hudson made a surprise appearance, joining the trio for the end of the song.
The Seattle rappers had a big night at the VMAs, holding the title for the most nominations of the night, tied with Justin Timberlake. The duo was up six awards: Video of the Year for "Thrift Shop," Best Hip-Hop Video, Best Direction, Best Editing, and Best Cinematography for "Can't Hold Us," and Best Video with a Social Message for "Same Love."
The 2013 VMAs featured some major big-name performers. In addition to Macklemore and Ryan Lewis' "Same Love," the awards show also included performances by Kanye West, Katy Perry, Bruno Mars, and Lady Gaga.
Live updates from the show are available below.
PHOTO GALLERY
Video Music Awards 2013
08/25/2013 11:26 PM EDT
That's It For The VMAs
The 2013 MTV VMAs were something else. Thanks for joining!
08/25/2013 11:26 PM EDT
No, Boo!
YOU'RE GONNA HEAR ME SNORE!!! AM I RIGHT????

— bobby finger (@bobbyfinger) 4 years ago
08/25/2013 11:20 PM EDT
Here's Her Roar
Katy Perry performed "Roar" for the first time, and it was glorious.
08/25/2013 11:18 PM EDT
The Video Of The Year Winner Is ...
08/25/2013 11:15 PM EDT
Joseph Gordon-Levitt Announces The MTV VMA For Video Of The Year
With a silly voice.
08/25/2013 11:12 PM EDT
In Case You Blinked During The VMAs
Ladies and gentlemen, the reunited NSYNC. http://t.co/vsH4DT5Yb2

— Hunter Schwarz (@hunterschwarz) 4 years ago
08/25/2013 11:08 PM EDT
So True
The perfect time for a Bruno Mars performance is totally TWO HOURS into the #VMAs.

— Jesse Fox (@JesseDavidFox) 4 years ago
08/25/2013 11:07 PM EDT
lolz
it would be amazing if nsync reappeared right now by lowering down from the ceiling on marionette strings

— kalkutta (@djkalkutta) 4 years ago
08/25/2013 11:07 PM EDT
Because This Bruno Mars Performance Is Boring
Let's remember this:
Me during Justin Timberlake's performance http://t.co/0IKZ3MXGMy

— things in life (@ItsThingsInLife) 3 years ago
08/25/2013 11:00 PM EDT
Lena Dunham Checks In
VMAs: Stop all this "what's up Brooklyn!!!" What's up is I'm 10 blocks away in my nightgown trying to keep my dog from drinking his own piss

— Lena Dunham (@lenadunham) 4 years ago
BEFORE YOU GO