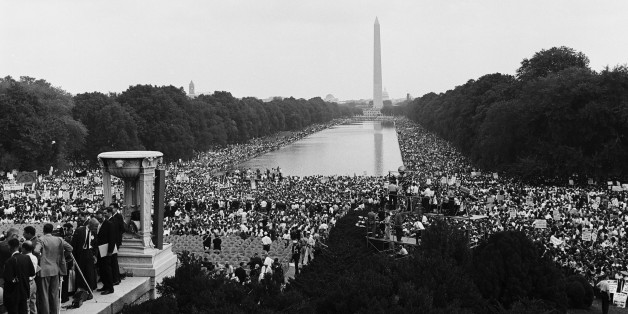 African-Americans see a long road ahead. A HuffPost reporter gets an unintentional sneak peek at Ken Cuccinelli's message testing. And The Monkey Cage's move makes this a great day for political science (and our friends at the Washington Post). This is HuffPollster for Monday, August 26, 2013.
AFRICAN-AMERICANS EXPRESS CONTINUED CONCERN FOR CIVIL RIGHTS… - Lydia Saad: "A month after Florida neighborhood watchman George Zimmerman was acquitted on all charges in the shooting death of a black teen named Trayvon Martin, blacks are more likely than they were just prior to the July 13 verdict to believe new civil rights laws are needed to reduce discrimination against blacks. An August Gallup poll finds 61% of blacks saying such laws are needed, up from 53% in a June-July poll….Americans broadly, as well as whites and blacks specifically, tend to believe that blacks' civil rights have improved in their lifetimes; relatively few say these have stayed the same or worsened. However, blacks are far less likely than whites to believe they have "greatly improved." In addition, possibly resulting from this, blacks are much more likely than whites to believe new civil rights laws are necessary, and to favor a major role for government in helping blacks and other minorities advance." [Gallup]
...as well as growing dissatisfaction - Jeffrey M. Jones, writing on a separate and more recent survey: "Blacks are somewhat less satisfied now (41%) than they were earlier this summer (47%) with the way blacks are treated in the U.S. By contrast, their views of how other groups are treated are no worse today than they were in June and early July….Fifty years after the march, blacks and whites perceive racial issues very differently. The June-July Gallup poll suggested that U.S. attitudes about race were improving, perhaps as a result of the election of the first black president in 2008. However, when a racially charged incident, such as the Zimmerman verdict, occurs, and blacks and whites perceive the issue differently, it can bring into question how much progress in racial equality there has been in the United States. And it appears that in some respects, blacks' attitudes about their group's treatment have become more negative in recent months." [Gallup]
A LOOK AT CUCCINELLI'S MESSAGE TESTING IN VIRGINIA - HuffPost's John Celock got a polling call on Sunday afternoon. Some of the questions he recalls: "If I knew that as Student Body President at UVA that Cuccinelli put together a rape prevention program for students, would I be more likely, somewhat more, less, etc. to vote for him. If I knew about his pro-women's work as a state senator would I be more likely or less likely to vote for Cuccinelli, more or less likely to vote for him….If I knew that McAuliffe's car company is being investigated for the visa issue would I be more or less likely to vote for McAuliffe." The pollster also asked for reactions to McAuliffe's attending a fundraiser on the day his son was born, and for opinions on on President Obama and Obamacare, as well as the effects of taxes on economic development.
'THE FIX' EXPLAINS WHY CANDIDATES NEED POLLING - Chris Cillizza: "All (successful) candidates use polling. There's no more overused candidate trope than 'I don't need polling to tell me what I think.' (Newt Gingrich, we are talking about you.) The truth? ALL — and we went all caps on purpose there — candidates use polling to help guide them to victory. The misconception about candidate polling is that it's primarily conducted to see what the horse race looks like. Wrong. Most internal polling is done to test a variety of messages — both positive and negative — that can be employed during a campaign. Remember that winning campaigns tend to settle on a single message and stick to it — like, for example, 'Hope and change'. That repetition is not by accident. It is poll tested like crazy." [WaPost]
BERNSTEIN: QUESTION 'RULE OF THUMB' - In reacting to last week's review of a Public Policy Polling (PPP), in which 29 percent of Louisiana Republicans blamed Barack Obama rather than George Bush for the response to Hurricane Katrina, Political Scientist Jonathan Bernstein offers advice for interpreting survey questions: "For a common sense rule of thumb...the closer a question is to something that respondents have been actually thinking about, the better the chance of the answer indicating something we would normally think of as a real, stable, opinion. The closer a question is to something that someone is already planning to do, the better it will actually predict actions. So, in the classic case, asking someone who they will vote for tomorrow is going to be an excellent way of finding out election results in advance; asking someone who they would vote for if an election scheduled three years from now was to take place today is going to produce a very poor prediction of future actions." [PlainBlog]
CONGRATS TO THE MONKEY CAGE ON MOVING TO WASHINGTON POST! - John Sides: "We are very pleased to announce that The Monkey Cage is going to become part of the Washington Post. After 5+ years of writing and growing as an independent blog, we think that the Post offers a tremendous opportunity both to increase and broaden our audience and to improve our content." The blog will be outside the Post's paywall for the first year, and then remain open to .edu, .mil, and .gov accounts. [Monkey Cage]
HUFFPOLLSTER VIA EMAIL! - You can receive this daily update every weekday via email! Just enter your email address in the box on the upper right corner of this page, and click "sign up." That's all there is to it (and you can unsubscribe anytime).
MONDAY'S 'OUTLIERS' - Links to more news at the intersection of polling, politics and political data:
-Most blacks, whites and Hispanics say they get along reasonably well with each other. [Pew Research]
--70 percent of Americans have broadband access, but 1 in 5 are still completely offline. [Pew Internet]
-A plurality of Ohio voters support gay marriage, for the first time in a PPP poll. [PPP]
-Harry Enten serves up five questions that matter about the New York City mayor's race. [Guardian]
-New York's Board of Elections is still counting votes from 2012. [Daily News via @ForecasterEnten]
-A private poll shows a wide open Boston mayor's race. [Boston Globe]
-The Open Elections project publishes an initial release of its election metadata API. [Ope Elections]
-Pew Research releases its datasets on the middle class. [Pew Research]
-The University of Virginia announces a Big Data Initiative. [Daily Progress]
-Benenson Strategy Group acquired by WPP's Kantar. [WPP release]
-Fake Pew Research strikes again. [The Onion]