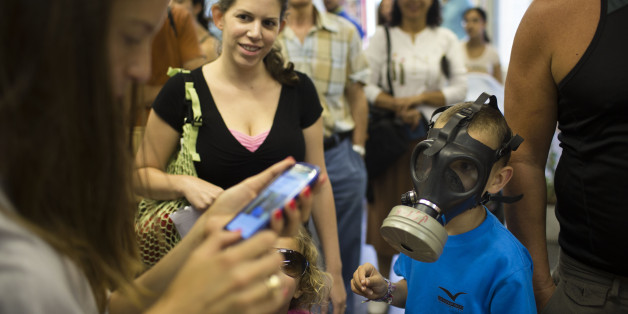 Israelis are stocking up on gas masks as the United States deliberates whether to launch a military strike against Syrian government forces after an alleged chemical attack last week, according to multiple reports.
On Sunday, the Israeli Postal Service, which controls the gas mask distribution centers, said it had received four times the usual number of orders, Haaretz reports.
Some in Israel are worried that a U.S.-led assault on Assad's forces in response to last week's alleged chemical attack would provoke a retaliatory strike on Israel, according to Tel Aviv-based news site Ynet.
While U.S. President Barack Obama said last year that the use of chemical weapons in Syria would constitute a "red line," the administration has reportedly not yet made a decision on how to respond to last week's events. However, U.S. officials have said a list of military targets in Syria has been circulating the White House since last week, according to The New York Times. The president has met with leaders of France and Britain to discuss possible courses of action.
Germany suggested Monday for the first time that it would support a strike on Syria, saying the government "must be punished" if it was confirmed to have carried out chemical attacks, the Associated Press reported.
U.N. investigators visited the site of the alleged attack in Damascus on Monday, meeting with victims and collecting samples.
The Syrian government has denied the use of poison gas, and blamed the attack on foreign fighters.
After a series of rebel attacks on the Syrian capital Damascus this past spring, Israeli Prime Minister Benjamin Netanyahu told Israeli government ministries to provide all the country's citizens with gas masks, according to The Times Of Israel. About 60 percent of Israelis currently have gas masks, the paper notes.
BEFORE YOU GO
PHOTO GALLERY
Syria War In August (Warning: Graphic Images)