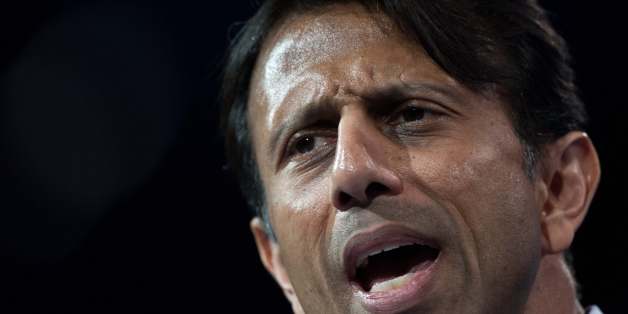 Louisiana Gov. Bobby Jindal (R) on Saturday denounced as "shameful" a lawsuit filed last week by the U.S. Department of Justice to block the implementation of parts of the state's school vouchers program.
Louisiana's school vouchers program, known as the Louisiana Scholarship Program, allows students to transfer out of failing public schools and into private schools using taxpayer dollars. However, the DOJ claims that the program affects the racial balance in some districts that are still under federal desegregation orders. The lawsuit seeks to stop the state from awarding further vouchers to students in 34 school systems, according to the petition filed by the government and obtained by the Times-Picayune.
"The State's continued issuance of vouchers without proper regard for existing district desegregation orders or consent from appropriate federal courts impedes these school districts' desegregation efforts, and deprives the students of their right to a desegregated educational experience," reads the petition.
The petition also alleges that the voucher program has already lured students who were the racial minority at their public schools into private ones, making the public schools more racially identifiable.
In response, Jindal said the government's lawsuit attempts to trap kids in failing schools.
"Giving every single child -– no matter their race or their income -– the opportunity to get a great education is a moral imperative. We will not sit by while folks in Washington, D.C., try to tell Louisiana parents that they are not able to attend the school of their choice," said Jindal in a press release.
In an appearance on "Meet the Press" on Sunday, Jindal referenced the lawsuit when referring to education as the country's next civil rights battleground.
"Now the Department of Justice, using the same rules that were there to prevent discrimination against minority children, is going after some of these parents and some of these kids and saying, 'We don't know that we want to allow you to make this choice,'" said Jindal.
Former Florida Gov. Jeb Bush, chairman of the Foundation for Excellence in Education, also criticized the lawsuit in a press release Monday. "This is another intrusion by the federal government on families' personal decisions. Parents who wish to send their child to a better school should not have to seek approval from Washington," said Bush.
The voucher program started in New Orleans in 2008, then expanded statewide in 2012 and is expected to impact around 8,000 students this year, according to U.S. News and World Report. The program allows low-income students attending schools that have been given a C rating or below to transfer to a participating private school.
A hearing is currently scheduled to take place in mid-September, the Times-Picayune reports.
BEFORE YOU GO
PHOTO GALLERY
Politicians' Science Gaffes