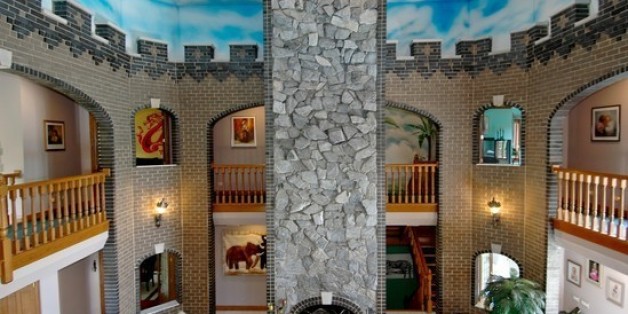 It's not every day a home like this Northern Illinois castle hits the market.
Last month, an 8,500-square-foot castle in Marengo, Ill., was listed for sale about 60 miles northwest of Chicago, according to its listing on Estately.
The three-story home, built in 1990, comes with four bedrooms, five bathrooms, a stunning pool and plenty of Medieval Times-esque flair, such as a living room that, thanks to its sky-painted ceiling, reminds us of a smaller version of the inside of the Aragon. But our favorite feature? A spiral staircase in the master suite that leads up to a private turret from which one can overlook the property's 10-acre lot.
The property has been listed with Coldwell Banker at a price of $1.099 million. Moat installation not included.
PHOTO GALLERY
Suburban Castle In Northern Illinois