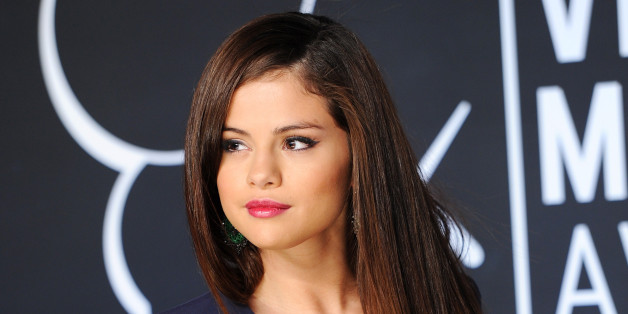 By Michael Lopez

By all accounts, it was a ravishing night at New York's Barclay's Center on Sunday. The 30th MTV Video Music Awards brought out some huge talent and quite a few surprises (courtesy of Justin Timberlake). The VMA's also delivered plenty of multicultural flair, with awards going to Bruno Mars and Selena Gomez.
Mars was one of the night's brightest stars, performing his new "Gorilla" single and earning two Moon Men along the way. He picked up the coveted Best Male Video statue for "Locked Out Of Heaven" and nabbed Best Choreography for "Treasure."
Selena earned Best Pop Video for "Come & Get It," beating out faves like Miley Cyrus, Justin Timberlake and fun. She also picked up a ton of buzz for her sexy fashion choices, which included a studded black and blue ensemble and a set of bright emerald earrings.
Other Latino contenders of the night included Miguel (whose "Candles In The Sun" was up for Best Video With A Social Message) and Jennifer Lopez. J to tha Lo actually proved to be a no-show, but narrowly lost in the Best Choreography category to Bruno.
On the red carpet, Chilean-born Snooki made a memorable appearance alongside her steady Jionni LaValle. Sporting a tight black gown and fiery hair, she picked up a ton of attention and proved once and for all that her relationship IS NOT on the rocks. Glee alum Naya Rivera dropped by the festivities too, channeling a bit of Morticia Addams with her jet black, hip-hugging dress.
Lady Gaga turned heads for wearing a rather normal outfit to the event. She was seen in a black leather gown and shades, much to the delight of NY's onlookers. Gaga also debuted her newest single "Applause," which more than lived up to its name.
The night actually brought quite a few inspired performances. Robin Thicke belted out a live version of "Blurred Lines" with Miley Cyrus, while Macklemore and Ryan Lewis partnered with Jennifer Hudson for "Same Love." The closing number was Katy Perry's "Roar," which happens to be the first single off her upcoming album.
As for the night's big awards, Justin Timberlake's "Mirrors" won Video of the Year. 30 Seconds To Mars earned Best Rock Video for "Up In The Air" and Best Collaboration went to Pink and Nate Ruess for "Just Give Me A Reason" (beating out Pitbull and Christina Aguilera's "Feel This Moment").
But as you've probably already heard, the major VMA buzz moment happened when 'NSYNC reunited after a decade apart. The former teen heartthrobs performed classics like "Bye Bye Bye" in honor of Timberlake's Video Vanguard Award and got the crowd roaring. No word on whether the guys will stay "in synch" for another tour, but it's clear the fans would certainly appreciate it.
Read more Blogamole's News and Chisme here.
PHOTO GALLERY
Video Music Awards 2013
08/25/2013 11:26 PM EDT
That's It For The VMAs
The 2013 MTV VMAs were something else. Thanks for joining!
08/25/2013 11:26 PM EDT
No, Boo!
YOU'RE GONNA HEAR ME SNORE!!! AM I RIGHT????

— bobby finger (@bobbyfinger) 4 years ago
08/25/2013 11:20 PM EDT
Here's Her Roar
Katy Perry performed "Roar" for the first time, and it was glorious.
08/25/2013 11:18 PM EDT
The Video Of The Year Winner Is ...
08/25/2013 11:15 PM EDT
Joseph Gordon-Levitt Announces The MTV VMA For Video Of The Year
With a silly voice.
08/25/2013 11:12 PM EDT
In Case You Blinked During The VMAs
Ladies and gentlemen, the reunited NSYNC. http://t.co/vsH4DT5Yb2

— Hunter Schwarz (@hunterschwarz) 4 years ago
08/25/2013 11:08 PM EDT
So True
The perfect time for a Bruno Mars performance is totally TWO HOURS into the #VMAs.

— Jesse Fox (@JesseDavidFox) 4 years ago
08/25/2013 11:07 PM EDT
lolz
it would be amazing if nsync reappeared right now by lowering down from the ceiling on marionette strings

— kalkutta (@djkalkutta) 4 years ago
08/25/2013 11:07 PM EDT
Because This Bruno Mars Performance Is Boring
Let's remember this:
Me during Justin Timberlake's performance http://t.co/0IKZ3MXGMy

— things in life (@ItsThingsInLife) 3 years ago
08/25/2013 11:00 PM EDT
Lena Dunham Checks In
VMAs: Stop all this "what's up Brooklyn!!!" What's up is I'm 10 blocks away in my nightgown trying to keep my dog from drinking his own piss

— Lena Dunham (@lenadunham) 4 years ago