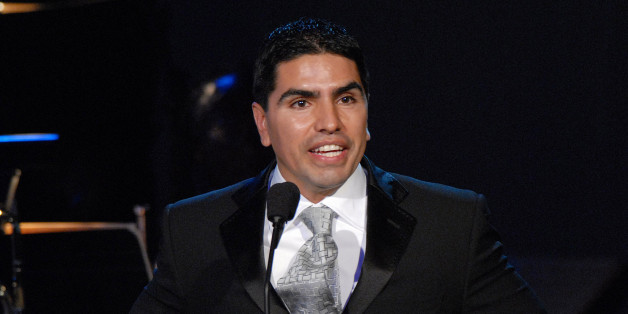 Eddie "Piolin" Sotelo may now have his own radio channel and show on SiriusXM, but that's not stopping the legal worries from accumulating.
On Monday, the Spanish-language radio star filed a civil extortion lawsuit against six former employees from his Univision morning show "Piolin Por La Mañana" according to a press release. Sotelo accuses his past colleagues of attempting to blackmail him out almost $5 million in exchange for not going public with "false and misleading allegations of sexual harassment and workplace humiliation."
The lawsuit states the six defendants made their monetary demands last week via telephone and in writing, threatening to copy the sexual harassment allegations filed by former employee Alberto "Beto" Cortez the week after the famed Univision morning show was abruptly cancelled in July.
Sotelo's attorney Jeffrey Spitz filed the lawsuit against Domingo Rodrigo Ochoa, Tomas Alejandro Fernandez, Samuel "Cusuco" Heredia, Sergio "Checo" Vera, Gerardo "Chiquirruco" Palencia, and Bertha "Betushca" Velasco. The lawsuit calls the former employees' extortion a "naked money grab" and states that "Piolin is appalled by the conduct of his former colleagues and personal friends."
The press release states the defendants are being represented by the same firm that filed sexual harassment claims on behalf of Cortez last month. Legal documents also note that all six ex-employees are legally barred from suing Sotelo, whether it'd be due to a statute of limitations or because they signed agreements waiving any and all legal claims against Piolin and Univision.
The radio host reacted to the alleged extortion by noting he helped his former colleagues throughout their careers. Last month, Sotelo shared similar sentiments towards Cortez's lawsuit via a press release.
During the past 14 years, I helped my friend Beto Cortez through a number of difficult periods in his life and have been very generous to him. It saddens me that he has resorted to making baseless claims in an attempt to obtain an undeserved financial windfall.
Despite the legal fallout of his Univision radio show's cancellation, the host will launch "Piolin Radio" later this year on Sirius XM.
BEFORE YOU GO
PHOTO GALLERY
Eddie 'Piolín' Sotelo