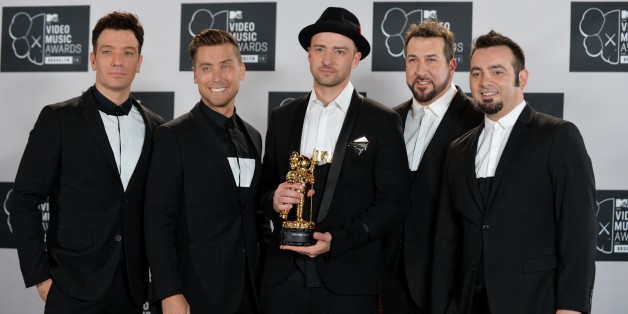 While MTV's 2013 VMAs didn't break the ratings record set in 2011 (when the awards ceremony scored 12.4 million viewers following performances by Adele, Beyonce and Lady Gaga in drag), Sunday night's broadcast did enjoy a 66 percent increase from 2012's ratings, earning a total audience of 10.1 million viewers in its first broadcast and a 7.8 rating in the 12-34 demo.
Viewer interest in the Brooklyn-based ceremony was high after boyband *NSYNC were rumored to be reuniting in honor of Justin Timberlake's Video Vanguard award, and the group did take to the stage (albeit for under two minutes) after Timberlake performed a solo medley of his hits.
According to MTV, the 2013 Video Music Awards generated 120 national and worldwide trending topics on twitter, and 1.2 million Instagram likes. Miley Cyrus and Robin Thicke's controversial performance set a new Twitter record, bringing in 306k tweets per minute -- most of which were shocked reactions to Cyrus' attire and behavior on stage (much like the reactions of stars in the audience, including a horrified Will Smith and family, and a subdued Drake). Cyrus' performance also drew the ire of the Parents Television Council, even after some lyrics were bleeped.
"MTV continues to sexually exploit young women by promoting acts that incorporate 'twerking' in a nude-colored bikini. How is this image of former child star Miley Cyrus appropriate for 14-year-olds?" the PTC asked in a statement.
What did you think of the 2013 VMAs?
PHOTO GALLERY
Video Music Awards 2013