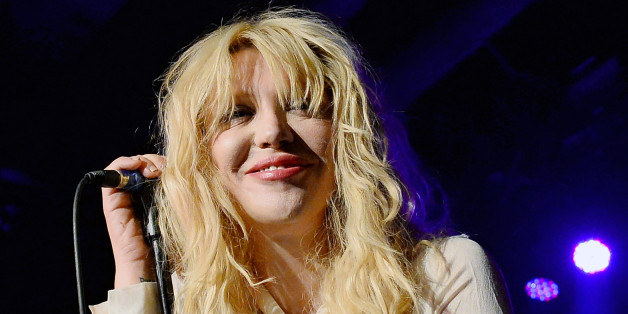 Courtney Love has spent the month on the road, but that doesn't mean her concert wish list has been satisfied. The Hole frontwoman wrote a "gushy girl fan letter" to Savages, the punk girl group from London, saying she'd like to tour with the band.
"I was listening to this incredible new band -- it's mostly girls, out of England -- called the Savages. They are amazing," Love said in a new interview with Vanity Fair. "There is a song called 'Shut Up.' It's kind of very Siouxsie Sioux. The beginning is all spoken word and it's brilliant, about disciplining yourself and not being distracted. And they're gorgeous! Shaved heads."
Perhaps if Love plays her cards right, she can make that happen when her next tour rolls around. The 49-year-old singer was supposed to release new music in conjunction with her current gigs, but she told Entertainment Weekly earlier this month that the timing didn't work out. She has eight songs recorded for a new album so far, and perhaps when her new material debuts this Christmas, Savages -- who are also on the road right now -- could be ready for a team-up.
"I would love to tour with them," Love said. "I just wrote them a gushy girl fan letter because I had been listening to their stuff all day and I get so excited whenever I see a new female artist that's good and doesn't have fireworks coming out of her tits" -- an obvious reference to Katy Perry.
In the meantime, Love tells Vanity Fair that her new memoir will be titled "Girl with the Most Cake," after a lyric in Hole's "Doll Parts." The book is also slated for a Christmas release. She likens it more to Russell Brand's "My Booky Wook" than to Patti Smith's "Just Kids."
[via Vanity Fair]
Read HuffPost Celebrity's #nofilter with Courtney Love here, and check out the Savages song Love is obsessing over below.

BEFORE YOU GO
PHOTO GALLERY
Courtney Love's Style Evolution