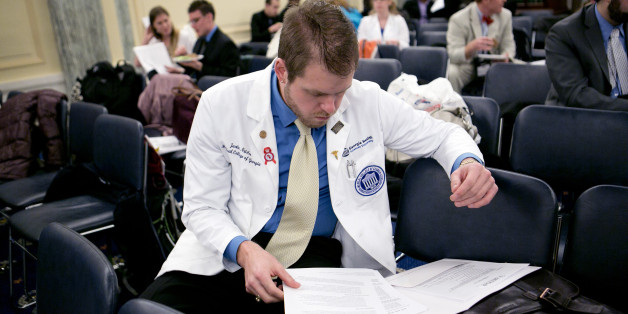 This article comes to us courtesy of U.S. News & World Report, where it was originally published.
This fall, Georgia Regents University is offering students something few M.D. hopefuls will get the opportunity to do: work on their bachelor's degree while also having conditional acceptance at medical school.
Through its new pipeline program, undergraduates will be guided toward a career in medicine through certain classes and receive conditional acceptance into the Medical College of Georgia.
"If students in the program maintain a certain grade point average throughout, achieve a satisfactory score on the Medical College Admission Test, complete requirements for research, volunteer work and career shadowing and successfully complete an interview, they will have a seat in the medical school class after their fourth year," Richard Griner, who chairs the GRU Department of Biological Sciences, said in a recent article from Georgia Regents University News.
There are baccalaureate-M.D. programs at 47 schools, according to a 2013 report by the Association of American Medical Colleges.
The Feinberg School of Medicine at Northwestern University, University of Nevada School of Medicine and University of New Mexico School of Medicine are just a few schools that offer these programs.
[Weigh applying to med school in your third or fourth year.]
"You sort of have your foot in both worlds," says Geoffrey Young, senior director of student affairs and programs for the AAMC, when describing these dual degree programs. "It's almost like a bridge. A transitional bridge that enables students to pursue medical school sooner than later."
High school students who want to become doctors can target their college search on schools that offer baccalaureate-medical degree programs. Some pipeline programs accept only a handful of students each year, while others accept dozens. Some only accept incoming freshmen, while others allow students to matriculate later in their college careers. It's a safe bet, though, that all aim to be academically challenging.
Participating schools usually give students conditional acceptance to medical school if they meet a rigorous set of standards by their junior year, such as having a grade point average of at least 3.4 and an MCAT score of 30.
The mission of pipeline programs varies from school to school, but a number of institutions use them to help underrepresented minorities, such as African-American and Hispanic students, get into the medical field.
At University of New Mexico, 71 percent of this year's 28 incoming students for the combined B.A.-M.D. degree program are underrepresented minorities, and 68 percent are from rural areas, says Valerie Romero-Leggott, the program's executive director.
The program started in 2006 and typically receives about 200 applications. It was designed to help fix the physician shortage problem in New Mexico with New Mexico-trained doctors.
[Highlight compassion in your medical school application.]
"It's about growing our own," says Romero-Leggott. Most students admitted in the program are New Mexico residents; many are bilingual in English and Spanish or English and Navajo. "They're the students that are going to come back and serve their communities," she says.
As an additional incentive to join, admitted students do not have to pay tuition for the undergraduate portion of the program.
Many of the students who go to the Robert Wood Johnson Medical School through Access Med, a pipeline program offered through Rutgers, the State University of New Jersey—New Brunswick, are also underrepresented minorities, says Kamal Khan, director of the Office for Diversity and Academic Success in the Sciences at Rutgers.
"There's a larger number of African-American males going to medical school and graduating from medical school," says Khan, when discussing Access Med. The program also caters to Hispanic, Puerto Rican and Native American Students.
The Access Med program at Rutgers has about 200 students and it helps them enter a range of health care graduate programs, including dental school and medical school. Similar to the program at UNM, it provides students with academic counseling and guidance along the way.
About 59 students are focused on medicine. After meeting certain benchmarks, they are required to take an intense MCAT course. For eight months, they meet from 3-7 p.m. each Friday and all day Saturday.
[Discover the truth behind three MCAT myths.]
Out of about 14 or 15 of these Rutgers students who apply to Robert Wood Johnson, 10 are accepted and end up matriculating to the medical school. They spend their last year of college taking classes at their undergraduate campus and the medical school, while continuing to pay undergraduate tuition and fees – which is notably less than the sticker price for medical school, says Khan.
There are a number of reasons only a few students make it through such programs.
High school seniors who want to be doctors sometimes change their minds, says Romero-Leggott of UNV. Instead of getting an M.D., some of her students may go on to become dentists, physician assistants and other kinds of professionals.
Khan says that a number of his students run into financial problems while paying for college and cannot commit to Access Med, which is offered at no additional cost.
"Secondly is academics," he says. "Not putting in the time."
Access Med requires a great deal of focus, and some students get so wrapped up in extracurricular activities they end up switching majors and exiting the program, he says.
For students such as Robert Ackerman, there was no extracurricular activity that could distract him from his childhood dream of becoming a doctor. The 21-year-old is now in his fourth year in the combined, seven-year B.S.-M.D. program at the University of South Florida's Morsani College of Medicine. This is his first year of medical school.
"There's a lot more classes," he says. "It's nothing I've ever seen before."
In undergrad he took as many as 20 credits a semester and had to score a 30 – out of 45 – on the MCAT to go on to medical school. He encourages other students interested in baccalaureate-medical pipeline programs to prepare for a hefty workload.
"It's a lot of work," he says. "They have to be dedicated and focused."
Searching for a medical school? Get our complete rankings of Best Medical Schools.