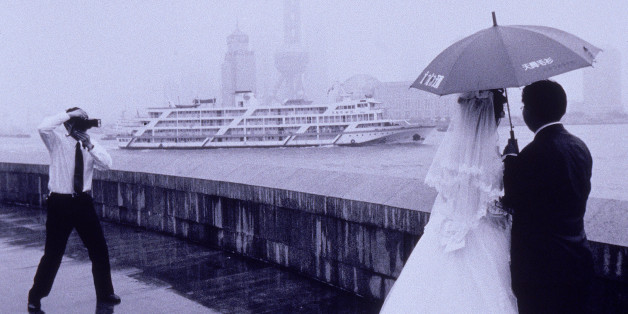 This article originally appeared in Wedding Ideas magazine.
Before you part with any hard-earned cash, make sure you ask your wedding venue and photographer these essential questions.
Your venue:
1. Are you licensed for civil ceremonies?
This has to be your first question if you're planning to marry at your venue. Then, ask to see the ceremony room or rooms, and make sure you feel comfortable there.
2. What does your all-inclusive package include?
These can vary greatly from venue to venue, so it's very important that you ask for a detailed breakdown. Basic packages can simply be the room rental, wedding breakfast and some sparkling wine for the toasts, while the other end of the scale could be a package with exclusive use of the venue for the whole day, plus all the pretty trimmings.
3. Can we bring in our own suppliers?
Picking an "empty" venue and then arranging your own catering, drinks, flowers and so on, can be a good way to save money -- but check to see if they will be charging you a corkage fee. Alternatively, ask the venue if they have suppliers who they regularly work with, who may be able to offer discounts.
4. Will we have exclusive use of the venue?
Most brides want to feel like the center of attention on the Big Day, so check that your venue won't be hosting other weddings at the same time as yours. If this is unavoidable, ask to keep the bar, toilets and evening reception rooms separate. Also ensure there is enough staff to cater for both parties.
5. How many guests can we invite to the day?
Check the venue's minimum and maximum numbers early on so you know they can accommodate your dream day. Similarly, is the venue going to be suitable for all your guests, young and old? Is there a disabled entrance? Is there a space where you could create a play area for the little ones?
6. How do we pay?
Most big locations will have a payment plan, so you can pay in installments each month. A top tip would be to pay big amounts on a credit card, so you have some protection should the worst happen. This is also a good time to get your wedding insurance package in place.
7. Can we test the menu?
Food plays a big part in the big day, so definitely try before you buy! Check the options for gluten-frees and vegetarians, too. If your budget is tight, will the catering team be willing to work with you to create a menu that's just right?
8. Are there any restrictions?
Candles and fireworks are often not allowed at old buildings. Check your venue's policy on this before placing deposits with any other suppliers.
9. Do you have an in-house wedding co-ordinator?
A dedicated stylist or planner can really alleviate pressure from you on the day, so ask if your venue has one for you to work with. Be forthcoming with your ideas, and ask about their recommended suppliers -- they should have a list of companies that they regularly use for weddings, from hairdressers to entertainers.
10. Can my guests stay here?
Ask whether your venue's rental price includes the cost of the bedrooms. If not, would they consider a discounted rate for friends and family? The bridal suite, however, is usually included.
Your photographer:
1. Will you be my photographer on the day?
Some companies have lots of photographers on their books, so make sure the person you've met will be the actual photographer on the day.
2. Do you have a wet weather back-up plan?
A good photographer will always consider indoor photo opportunities at your venue should the weather turn bad. They should also bring studio lighting just in case. You can prepare yourself, too, by getting some pretty umbrellas to shelter under during portrait shots.
3. Will I own the copyright?
Some photography packages give the couple the right to reproduce photos, while others give only the photographer the right to retain the copyright, which means they can charge you for extra copies. However, in most packages you will receive an online gallery that you can share with family and friends, from which they can order prints.
4. How many weddings do you shoot per day?
Don't assume your photographer will be there for you all day long -- they may have other weddings to attend. If you want your photographer to stay with you from the moment you get ready to the first dance, discuss this with them when you arrange the timings and they can tell you if it will cost extra.
5. Can I see a complete set of wedding pictures?
Naturally, the photographers will select their very best work for their portfolios, so asking to see a complete wedding will give you the best idea of what you'll receive. When researching your photographer, it's also a good idea to see if they've been featured in magazines and blogs, because this will give you a good idea about the variety of weddings they shoot.
6. How do you normally work?
Some photographers excel at natural, reportage style photography, while others are brilliant at rounding up guests for the posed shots. Choose someone who suits you and the style of wedding you want. If you are having posed shots, give your photographer a list of all the family members who need to be included.
7. How long will it be before we can see our wedding photos?
Online proofs usually take three or four weeks before they're ready to view, but this varies between photographers, and may be longer during the peak wedding season. After this, you will be given a disc or memory stick of all the high resolution images for you to keep.
8. Do you have a second shooter or an assistant?
To give you the best coverage, some professionals will bring a second shooter with them. However, this may well be reflected in the price, so check in advance. Another idea would be to hire a team, or a husband and wife duo -- that way you'll have photos from all aspects of the day, including the boys getting ready, which you wouldn't have ordinarily seen.
9. Have you worked at my venue before?
If they haven't, it's perfectly acceptable to go with them to the venue to scout the location, and discuss possible shots before the wedding day. If they are regulars at your chosen location, ask to see a wedding they've done there so you can visualize how it will look for you.
10. Will you need a hot meal?
If your photographer is going to be with you all day, you should add a hot meal for them on to your catering numbers. If they're fed and watered, they'll be able to give you the best results all day long. Also, ask your venue if there's a secure room where your photographer can store their equipment.
Keep in touch! Check out HuffPost Weddings on Facebook, Twitter and Pinterest.