Whatever kind of day you're having is sure to improve after you see this photo of a pit bull attacking a baby with kisses, while in residence at a dog kissing booth: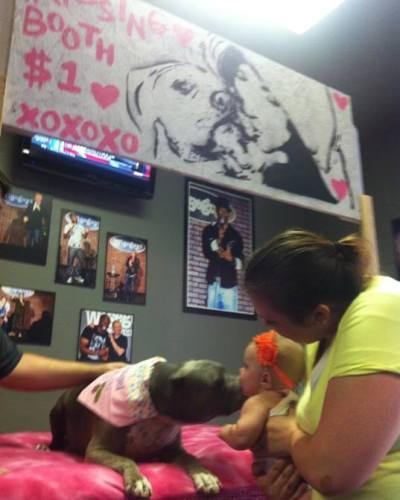 The dog giving the kisses is Angel, a rescue belonging to the actress, comic and pit bull advocate Rebecca Corry; she's behind the upcoming One Million Pibble March on Washington, scheduled for May 3, 2014.
The kisses cost $1 each, with Corry raising money for pit bull rescue groups while on the road performing her Stand Up For Pits comedy show. (This photo was taken in Salt Lake City.)
The baby's mom seemed pretty excited by the doggie kissing, too:

Here, let's make the day even better with a whole lot more dogs in kissing booths:
What do u think? A Dog Kissing Booth for the 2014 @BC_SPCA Masquerade Ball? 2 cute! pic.twitter.com/BIUvnN0ILT

— MaqueradeBall4BCSPCA (@ball4BCSPCA) May 10, 2013
What a GREAT idea to have a friendly dog manning a "Kissing Booth" at a charity event! (PHOTO) A dollar a kiss! pic.twitter.com/f1o37AJNyC

— Matt Jisa (@MattJisa) May 9, 2013
A mean old nasty pitbull at a kissing booth.... It's a travesty I tell you 😉 pic.twitter.com/yNB9exP9sm

— James Brasher (@Jamesb1961) August 9, 2013
Pit bull kissing booth gives 'kissing bandit' dog a chance http://t.co/CAtwugOizt via @msnNOW

— LnF Dog Rescue (@LNFDogs) May 23, 2013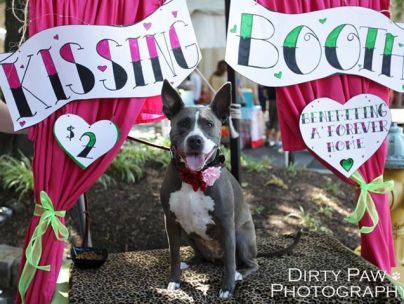 @MacBarksBack Kissing Booth from the Pit Bull Show in the weekend! pic.twitter.com/Fd6qtnC2jm

— Fort McMurray SPCA (@FMSPCA) July 2, 2013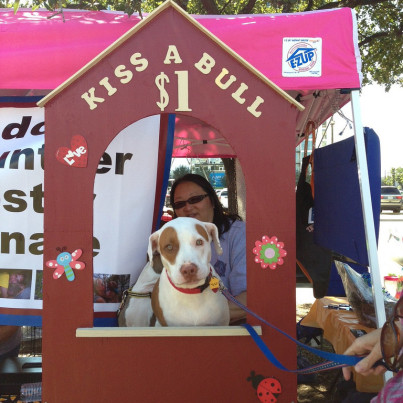 Flickr photo by Love-A-Bull, Inc.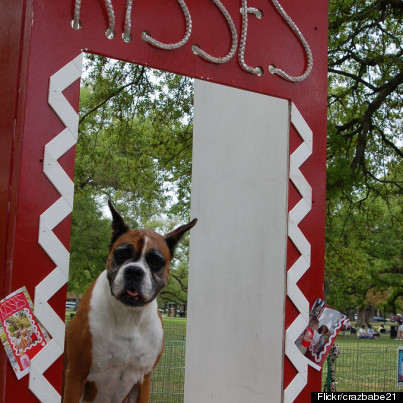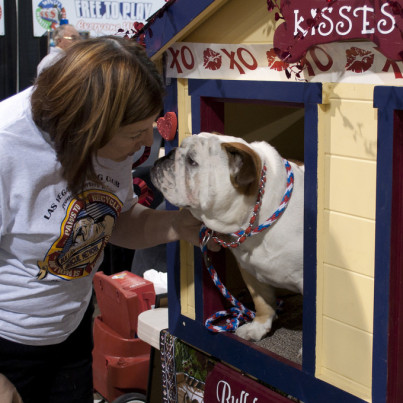 And even more!
PHOTO GALLERY
Pit Bull Kissing Booth
Just be careful if you see a pit bull in a kissing booth, especially a rescue, or else you might end up bringing the doggie home. Hey, speaking of -- these guys all need new homes:
PHOTO GALLERY
Pit Bulls Needing Homes