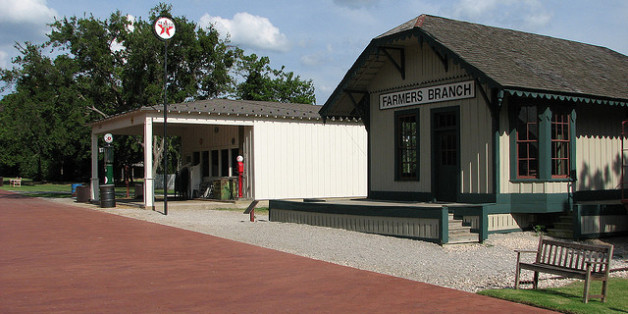 Latino leaders are urging a one-day boycott in the town of Farmers Branch, Texas, over its continued support of a ban on renting property to undocumented immigrants, CBS DFW reports.
The North Texas city passed an ordinance in 2006 banning undocumented immigrants from renting housing, under penalty of fines. The U.S. 5th Circuit Court of Appeals found the law unconstitutional in July, but the town's City Council voted 3 to 2 last week to appeal the case to the Supreme Court.
The civic leaders are asking residents to walk out of work and school, refuse and to spend money in the town on Sept. 13, according to CBS-DWF.
It's unclear whether or not the economic impact of the boycott will sway the housing ban's supporters. The city of 29,000 has already spent $6 million in legal fees to fight for the ordinance.
The ordinance, passed by an all-white City Council in a town increasingly populated with Latinos and immigrants, acted as a focal point of Anglo-Latino tension as the courts overturned Farmers Branch's at-large district system.
At-large districts allow candidates to compete for the votes of the entire town. The system tends to favor wealthier residents and ethnic majorities, leaving the town's working-class, Latino neighborhoods without representation of their choice. Single-member district systems, by contrast, divide cities into districts with a single representative, allowing working-class neighborhoods to elect representatives from their own communities.
A federal judge ruled the at-large system in place in Farmers Branch unconstitutional under section 4 of the Voting Rights Act, ushering in a single-member district system. The town elected Ana Reyes, it's first Hispanic City Council member, in May.
The Supreme Court voted to overturn section 4 of the Voting Rights Act in June.
Councilwoman Reyes excoriated the vote to appeal the ruling on the housing ordinance in a statement quoted by Texas blog Burnt Orange Report:
It has been determined by the full U.S. Fifth Circuit Court of Appeals, one of the most conservative federal appellate courts in the country, that this anti-immigrant rental ordinance is unconstitutional. After seven years and millions of tax dollars, the Farmers Branch City Council had an opportunity to put an end to this. I am extremely disappointed with the outcome and I know that ultimately, members of this Council failed our community tonight.
Image by Flickr user QuesterMark.
BEFORE YOU GO
PHOTO GALLERY
27 Celebs You Didn't Know Were Latino