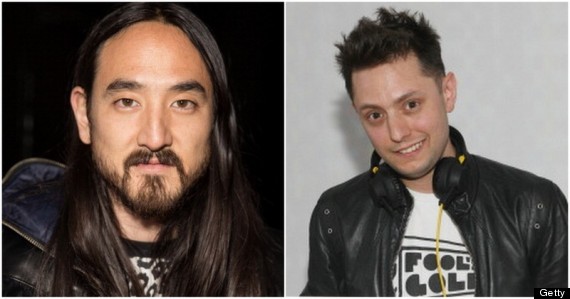 Electric Zoo once again lands on New York's Randall's Island on Friday, boasting a handful of stages and more headliners than ever before. But while the likes of Tiesto and Above and Beyond will be putting in work on the main stage, loyal fans of electronic dance music's subcultures will be flocking to the Fool's Gold Clubhouse, Dim Mak and Boyz Noize/OWSLA Records stages.
In anticipation of the big party, HuffPost Entertainment caught up with Fool's Gold's Nick Catchdubs and Dim Mak's Steve Aoki to get some insight into their plans for the weekend and find out what else the dance music maestros have up their sleeves. An edited transcript of our conversations and emails with the performers is available below.
Congrats on the stages - who's an act you're really excited to have performing this year?
Catchdubs: It's great to return to Electric Zoo for a second year of Fool's Gold Clubhouse stages. This year's lineup is super diverse and (as always), all family. I'm looking forward to everyone's set, especially DJ Sliink, who's opening up the day with crazy Jersey Club tracks.
Aoki: Jacques Lu Cont. I mean, he's a legend. He's kind of like shaped where electronic music is now. He's been producing under different aliases (Stuart Price), and he's not only an incredible electronic music producer in the underground, but he also produced Madonna's album and all kinds of stuff. I'm just over the moon that he's playing our stage, and I love having different generation of music coming together. It's a very diverse line-up, with new guys like Dyro and Clockwork and Lu Cont kind of like a godfather.
Nick, you're obviously a hometown favorite - what's it like to have seen Electric Zoo mushroom over the past few years?
Catchdubs: The rise of dance festivals around the entire United States has been great to see. There's always talk of over-saturation, and (rightful) concerns about "EDM" turning into a bubble with an inevitable burst. You're always going to have bandwagoners, but the festivals that put fans first and keep things interesting with their lineups will only continue to grow. And I definitely think Electric Zoo is one of those fests!
Aoki: I've played previous Electric Zoos, and for me it's really important because it represents the upper east coast of American EDM culture. It's just a significant part of the culture. Every time I play, I feel like there's a reverberance after I play -- there's a lot of feedback. You don't just hit New York, you hit all those cities and states up there.
What's a festival memory that really sticks out from the past year or so?
Catchdubs: The craziest festival we've done this year was Electric Forest in Michigan. It really was like being transported somewhere else. I hope the Electric Zoo can top it!
What's something coming out of your label this year that you're really looking forward to?
Catchdubs: This has been our biggest year ever in terms of releases. Everyone has been working non-stop to blow up records like Oliver and RL Grime's EPs, prep fullalbums from Danny Brown (his "Old" LP is going to become a new rap classic),and Party Supplies who is set to really surprise people as a band with their debut Tough Love. But to be 100% honest, what I'm most excited about is to finally release tracks of my own on the label,starting with the single "Bizness" last month and leading up to a full-length album called Smoke Machine early next year.
Aoki: On the Dim Mak side of things, it's a really busy schedule. Every single Tuesday we have multiple releases from a variety of artists, from Infected Mushrooms to Dirty Phonics to Clockwork. We've had a pretty successful run in the Beatport Top 10 charts with our releases, so I'm pretty excited. As far as my own releases, I have a pretty stacked schedule myself: "Boneless" comes out in the first week of September, then my collaboration with Linkin Park will come out in the second week. Then my collaboration with Machine Gun Kelly in October, then Borgore and I have a record, because I'm doing a bus tour for two months called "Aokify America" and I'm bringing Waka Flocka and Borgore. I have one with R3hab, two with Flux Pavillion and more. I'm also shaping up "Neon Future," my next album.
What's an emerging trend or subculture in the dance music space that you're really into lately?
Aoki:: I've been kind of playing this out, but it's new to me. I'm a big advocate of artists like Disclosure and Duke Dumont and that whole indie deep-house sound that is dominating blogs and more of the alternative space on the internet. I love seeing the success of Disclosure -- artists like that widen my scope and my production scope. Flume is another great artist that I'm just amazed by.
Any big Electric Zoo surprises you'd like to ruin by telling us now?
Catchdubs: Not going to ruin any surprises, but definitely going to encourage everyone to get there early… our tent fills up fast!
Aoki: Well, I will say that the special guest on the Dim Mak stage will be a back-to-back set with two well-known DJs.
Full line-ups of the Dim Mak and Fool's Gold tents, as well of those of all other stages, are available on Electric Zoo's website.
BEFORE YOU GO
PHOTO GALLERY
Forbes' Highest-Paid DJs Of 2013