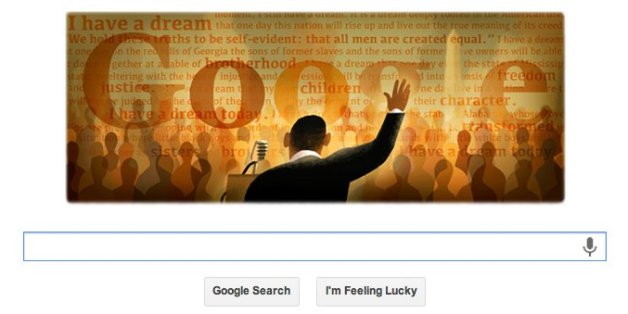 Google is celebrating the 50th anniversary of the March on Washington and Dr. Martin Luther King Jr.'s "I Have A Dream" speech with Wednesday's Doodle.
In Wednesday's Doodle, civil rights leader Dr. Martin Luther King Jr. is seen from behind reciting his speech to the crowd, surrounded by his famous words.
Though it may be hard to imagine, King's speech almost didn't include its iconic line, "I have a dream." King's speechwriter and lawyer Clarence Jones says. King improvised the famous line and the following paragraphs.
This Wednesday in honor of that fateful date a half-century ago, a "March for Jobs and Justice" will be led by people who were a part of the first march.
BEFORE YOU GO
PHOTO GALLERY
Google Doodle Slideshow