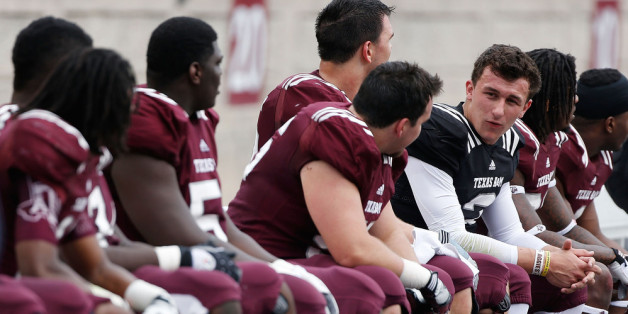 Johnny Manziel will be suspended for the first half of Texas A&M's first football game of the 2013 season, as first reported by Billy Liucci of TexAgs.com. A suspension that would force the Heisman winner to watch his Aggies tussle for two quarters against Rice on Saturday would be the apparent result of investigations into allegations that he accepted payment for memorabilia signing in violation of NCAA rules.
Latest on Manziel? Per multiple sources, he'll be suspended for first half of season-opener versus Rice on Saturday.

— Billy Liucci (@billyliucci) August 28, 2013
Luici's tweets about the suspension were soon followed by similar reports from ESPN's Brett McMurphy and Bruce Feldman of CBS.
Johnny Manziel has been suspended 1st half vs. Rice, source told @ESPN. 1st reported by @billyliucci

— Brett McMurphy (@McMurphyESPN) August 28, 2013
Can confirm TexAgs report, Johnny Manziel will be sidelined for 1st half of A&M opener vs Rice per source close to the QB

— Bruce Feldman (@BFeldmanCBS) August 28, 2013
Citing an unnamed source, McMurphy reported that this first half ban "closes the book" on the autograph issue. Similarly, Luici tweeted that "all indications" were that Manziel had not been found guilty of receiving payment for signings.
Manziel 1st half suspension "closes the book" on Manziel/autograph saga. NCAA acknowledges Manziel did not accept money, source said

— Brett McMurphy (@McMurphyESPN) August 28, 2013
As most predicted, all indications are that Manziel was not found guilty of accepting payment for signature. Obviously a significant note

— Billy Liucci (@billyliucci) August 28, 2013
Thanks to Manziel's star power, the NCAA's less-than-stellar reputation for rule enforcement and the financial hypocrisies exposed as this summer-long drama unfolded, the reported suspension generated plenty of conversation on Twitter.
PHOTO GALLERY
Reactions To Manziel's Reported Suspension
Reports of the half-game suspension come days after Manziel reportedly met for several hours with the NCAA. During a lengthy meeting, Manziel denied taking payment from memorabilia dealers, according to Feldman.
Earlier this month, ESPN's "Outside the Lines" reported that Manziel "agreed to sign memorabilia in exchange for a five-figure flat fee" while he in Miami to attend the BCS Championship Game in January. "OTL" subsequently reported that Manziel also accepted payment from another broker in exchange for signing approximately 300 mini- and full-sized helmets while attending an event for the Walter Camp Football Foundation later that same month in Connecticut.
If he was truly found to have not received payment then it remains unclear what exactly A&M or the NCAA would be suspending him for this weekend.
UPDATE 5:33 p.m. EST: In a joint statement, Texas A&M and the NCAA confirmed that Manziel would serve a half-game suspension for an "inadvertent violation regarding the signing of certain autographs." According to the statement, it was determined that there is no evidence that Manziel was paid to sign autographs.
CLICK HERE for complete statement