Karla Begley, the mother whose son with autism was the subject of a shockingly disturbing hate letter is taking a stand against intolerance and hate. The missive -- which suggested her 13-year-old son, Max, should be euthanized -- shook Begley's community and went viral last week.
Story continues below.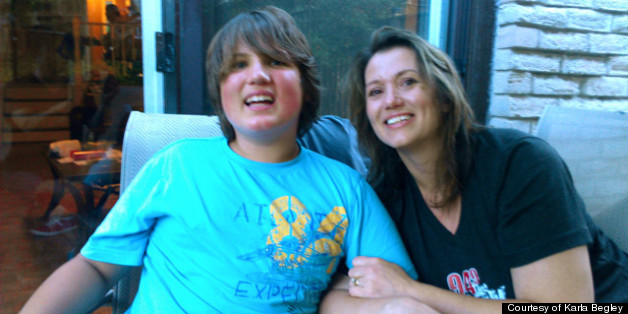 Karla and her son, Max.
Taking to Love That Max, a personal site where HuffPost blogger Ellen Seidman writes about her own experience raising a boy (also named Max) with cerebral palsy, Begley does not hurl insults or express anger. Rather, she seeks to wipe out ignorance about special needs families.
"The first step is having the courage to talk openly about the subject," Begley begins, and goes on to say:
If Max's sounds bother someone, I'd hope that person would let us know in a respectful way. Give us a chance to handle it instead of being cowardly about it. I'd rather people bring things out in the open. Sometimes, kids come up to me and ask "Why does he talk funny?" The parents are embarrassed. But if the mom isn't going to talk properly to a child, or teach him that kids with autism are not contagious, I will! ... I'd rather kids ask than grow up to be the sort of people who write nasty letters about autism!
Begley also highlights how important it is to recognize that her son -- and anyone else with special needs – has all of the same rights others do.
"People with special needs are people first," she writes, continuing, "Instead of glares, I wish people would give smiles. Instead of anger toward parents, I wish people would be more understanding. Trust me, if there's behavior ruining someone else's day, it's ruining mine and I want to deal with it!"
Far from considering her son a burden, as the anonymous letter suggests in the most extreme terms, Begley says she is constantly reminded of what a blessing he really is.
Everyone has a place in the world. Some people are meant to hold big jobs. Some people make you happy and smile. Max brings pure joy and love. He has taught me to slow down and appreciate life, as seen through his eyes. He's taught us what's important. …

... I think I'm lucky: How many mothers still have their 13-year-old son wanting to sit on the couch, have mommy time and cuddles, and not be afraid to show love and affection?
Read Begley's complete statement on Love That Max.
Even in the face of incredible negativity, Begley's response ends with a positive note about the support her community has given her family. As The Toronto Star reports, strangers continue to call and write with their own personal messages of love. Max was even offered a special vest from a local biker club, according to the news outlet.
"I love that Karla's taken the high road in her response to that letter writer," Seidman told HuffPost over email. "Now, a vile incident has morphed into an opportunity to further people's understanding about kids with special needs -- and encourage respect. Take THAT, hater!"
BEFORE YOU GO
PHOTO GALLERY
Facts About Autism