Updated story
A Chicago man is being held without bond on a series of felony charges after prosecutors say he attacked a police officer with a baseball bat last weekend.
Police charged 29-year-old Tythia Thigpen with attempted first-degree murder, aggravated battery to a peace officer, aggravated battery use of a deadly weapon and issuance of warrant, NBC Chicago reports.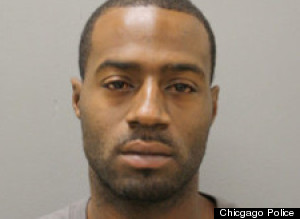 Tythia Thigpen, 29, was charged with beating a Chicago officer with a baseball bat Saturday. (Chicago Police)
In court Wednesday, a prosecutor said Thigpen showed "a complete and utter disregard" for human life in the attack and he was ordered held without bond, according to NBC.
Police say the officer responded to the scene of a fight involving "dozens" of people around 12:30 a.m. Saturday in the 5700 block of South Winchester Avenue in the West Englewood neighborhood. According to DNAinfo Chicago, the officer saw a man trying to hit a woman with the baseball bat and was beaten when he tried to intervene.
"You've got an officer in a one-man car in midnights in Englewood...He goes to get out of the car and gets hit before he can do anything," a police spokesman told CBS Saturday. "Fortunately, help was just behind him."
Thigpen allegedly hit the officer in the head so severely he was taken to an area hospital in serious-to-critical condition. CBS Chicago reports police say the officer has since been released and is "recovering well."
Thigpen has an arrest record that includes murder charges in 2004, the Tribune reports, according to court documents. He was found not guilty and released in 2006. Three years leader, Thigpen pleaded guilty to a separate drug charge.
BEFORE YOU GO
PHOTO GALLERY
Crime In Chicago