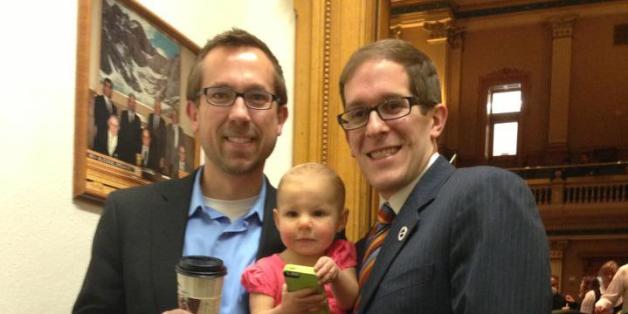 Mark Ferrandino, Colorado's first openly-gay Speaker of the House, and his partner of nearly 13 years were officially recognized as the parents of their adopted daughter Lila Augusta on Wednesday
"There is not one definition of what a family does look like and should look like," Juvenile Court Judge Karen Ashby said during the formal adoption hearing.
Ferrandino and his partner, Greg Wertsch, began foster-parent orientation classes with the Denver Department of Human Services 3 years ago with the hope of adopting a child. The couple became the foster parents of Lila in August 2012 but her adoption wasn't official until Wednesday.
In the immediate months after they became Lila's foster parents, Ferrandino became the speaker of the house, helped pass Colorado's civil unions bill and entered into a civil union with Wertsch.
Until the couple was recognized as the adoptive parents of Lila however, Ferrandino and Wertsch cautiously followed foster-care rules and kept Lila out of the limelight, but her influence on the speaker was noted from time to time.
Her bottle was visible on Ferrandino's desk when he shared a tender kiss with Wertsch in the infamous Denver Post photo that ran on the front page after the civil unions bill passed.
"In the five months she has been with us, this beautiful baby girl has enriched our lives beyond our wildest dreams," Ferrandino said in speech on the opening day of the 2013 Legislative session. "And you get a different perspective on life when you're changing diapers in the speaker's office."
BEFORE YOU GO
PHOTO GALLERY
Lila Augusta